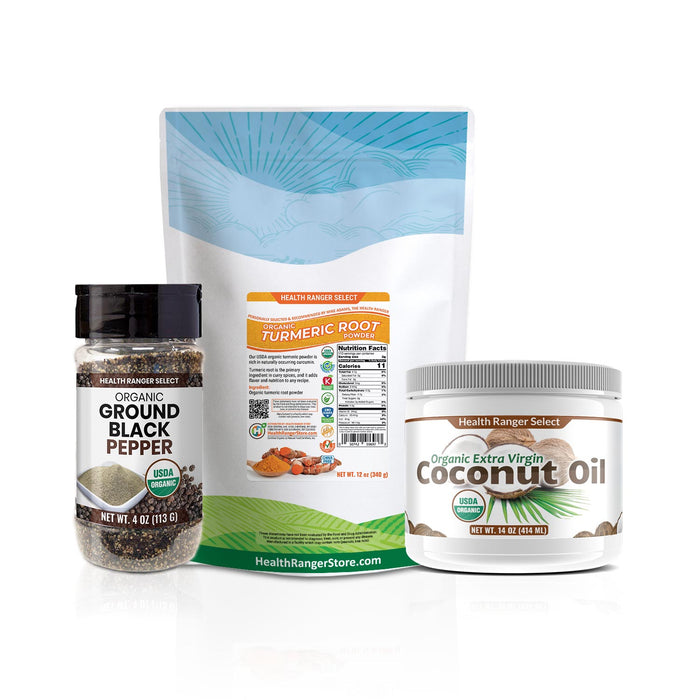 Organic Golden Turmeric Paste Kit
Original price
$ 54.95 USD
Original price
$ 54.95 USD
-
Original price
$ 54.95 USD
Original price
$ 54.95 USD
Current price
$ 38.95 USD
$ 38.95 USD
-
$ 38.95 USD
Current price
$ 38.95 USD
$ 16.00 USD

(29 %)
Item Number:
788934497_3com
Organic Golden Turmeric Paste Kit
1 x Organic Turmeric Root Powder 12oz (340g)
1 x Organic Ground Black Pepper 4oz (113g) 
1 x Organic Extra Virgin Coconut Oil 14 oz
Organic Turmeric Root Powder 12oz (340g)
This delicious spice is very common in Indian cuisine, but also in many South Asian and Middle Eastern cuisines. Its pungent, bitter flavor and its orange and ginger aroma can add an exotic touch to almost any dish.
More than a spice, turmeric is one of the BEST SUPPLEMENTS OF ALL TIMES – it can truly work wonders on your health. It has been used in various traditional medicine systems (including the Ayurvedic diet) for thousands of years. Health Ranger Select  Organic Turmeric Root Powder is packed with:
Vitamin C 

Vitamins B-1, B-2, B-3 

Calcium 

Manganese 

Phosphorous 

Potassium 

Zinc 

Other phytonutrients 
A valuable addition to any lifestyle, Health Ranger Select  Organic Turmeric Root Powder:
Supports the healthy functions of the immune and digestive systems

Promotes healthy intestinal flora

Promotes healthy blood glucose levels and liver functions

Helps cleanse the skin and provide nourishment
Health Ranger Select Organic Turmeric Root Powder is the cleanest, highest-quality turmeric powder on the market. Sourced from organic farms in India and packaged using state-of-the-art technology, Health Ranger Select Organic Turmeric Root Powder retains the amazing natural flavor and the nutrients of this super-spice.
USDA Organic

Glyphosate tested

Kosher-Certified

Vegan

Non-GMO

Gluten-free

Laboratory-Verified

China-Free
Serving size: 3g (3/4 rounded teaspoon)
Servings per container: 113
Country of origin: India
Organic Ground Black Pepper 4oz (113g) 
Black pepper is an ancient and highly versatile spice that has a long history of use in Ayurvedic medicine for its high concentration of potent, beneficial plant compounds. Derived from the dried berries of the Piper nigrum plant, black pepper is one of the most best known spices in the world. It is so useful in enhancing the flavor of dishes that it has even earned the title "King of Spices."
Enjoy the subtle heat and bold flavor of Health Ranger Select 100% Organic Ground Black Pepper. Our high-quality, freshly ground black pepper is perfect for curries and other dishes, and it can help enhance the bioavailability of turmeric powder. Harvested from organically grown peppercorns in Sri Lanka, our lab-verified black pepper is non-GMO, vegan, certified organic, and contains no fillers or additives. It is also meticulously lab-tested for glyphosate, heavy metals, and microbiology.
Health Ranger Select 100% Organic Ground Black Pepper is naturally rich in:
Manganese
Iron
Protein
Fiber
Calcium
Magnesium
Copper
Phosphorous
Zinc
Potassium
Vitamins A, C, and K
Health benefits of black pepper
Rich in vitamins and minerals – Black pepper can boost your intake of many nutrients, including magnesium, iron, fiber, calcium, manganese, copper, phosphorus, zinc, sodium, potassium, and vitamins A, C, and K.
Packed with antioxidants – Research shows that among various plant foods, black pepper has the highest levels of antioxidants and phenolics. It is also rich in a compound called piperine that has potent antioxidant properties.
Increases bioavailability of nutrients – Studies show that the piperine in pepper can help increase the bioavailability of certain nutrients. Add a pinch of pepper to your daily meals for optimal nutrient absorption.
Supports gut health – Black pepper supports healthy digestion by promoting your digestive system's natural production of hydrochloric acid and gastric acid. Research also indicates that black pepper can support healthy pancreas function.
Supports the growth of healthy skin – Pepper isn't just for consuming. You can create an exfoliating scrub by mixing half a teaspoon of crushed black pepper and a teaspoon of yogurt and applying the mixture on your face for 20 minutes.
Supports a sensible weight management plan when accompanied by proper diet and exercise – Adding a pinch of pepper to your regular meals is an excellent way to support numerous metabolic processes that may help maintain body weight within the normal range.
USDA Organic

Glyphosate-Tested

Kosher certified

Non-GMO

Low heavy metals verified
Ingredients: Organic Ground Black Pepper
Country of Origin: Sri Lanka
Organic Extra Virgin Coconut Oil 14 oz
Get the most out of this spectacular superfood with the Health Ranger's Organic Extra Virgin Coconut Oil. We've done everything we can to make our coconut oil stand above the rest, including but not limited to:
Lab verifying it for heavy metals and purity: Our coconut oil goes through intense scrutiny and verification in our lab.

Gently processed without using chemicals and bleach: The refining process of regular coconut oil calls for chemicals and bleach, both of which we've made sure our coconut oil never comes into contact with.

Making it zero-China: Rest assured that our coconut oil is carefully sourced from reliable growers.

Keeping it real: Health Ranger Select Organic Extra Virgin Coconut Oil is USDA-certified organic, non-GMO, kosher, and TRULY natural.
Benefits of coconut oil*:
Great source of Medium-Chain Fatty Acids

Supports healthy brain function

Supports healthy digestion

Promotes healthy hair and skin

Fuels your body after workouts
The Health Ranger's top 6 favorite coconut oil uses
Cooking: The healthy saturated fats of coconut oil give it a high smoke point, making it the ideal oil for cooking.

Smoothies: Add creaminess to your smoothies with one to two tablespoons of coconut oil. This is also a delicious way to reap its many benefits.

Baking: Did you know that you can bake with coconut oil? Use it as a healthy substitute for butter or vegetable oil.

Moisturizing: Warm a pea-sized dollop on your hand and rub it into your skin in a circular motion. Allow it to sit for five minutes before wiping it away to reveal smooth and supple skin.

Oil pulling: In the morning, swish one tablespoon of coconut oil in your mouth for 10 to 20 minutes. Do not swallow. Spit the oil in the trash can afterwards (not in the sink) and rinse with sea salt water for unbeatable freshness.

Conditioner alternative: Warm coconut oil in the palms of your hands and work it into dry or damp hair. Comb it to distribute it evenly then allow it to sit for 30 minutes or longer. Remove the coconut oil with shampoo and warm water.
USDA Organic
Kosher Certified
Vegan
Glyphosate Tested
Non-GMO
Laboratory Verified
China Free
Contains no artificial sweeteners, preservatives or synthetic ingredients 
Obtained from natural sources and is not chemically modified
Ingredients: Organic Extra Virgin Coconut Oil

Product of the Philippines
How to Make Turmeric Paste
Instructions:
1. Mix 1 cup of turmeric powder with 2.5 cups of water. Stir the liquid on a low heat for 10 minutes.
2. Once thickened, add 1 teaspoon of black pepper and 1/2 cup coconut oil. Stir very well.
3. Place in a jar with a lid and store in a fridge.
4. Add 1/4 teaspoon of paste to your eggs, rice, soup, salad and smoothies.
If you already use turmeric for its countless health benefits, you'll really love this versatile Organic Golden Turmeric Paste Kit. Just add coconut oil and water to make your own nutrient-rich turmeric paste (see video below) which has a multitude of uses for your health. Turmeric paste has all the benefits of turmeric powder, with the added benefit of increased bio-availability thanks to the black pepper.