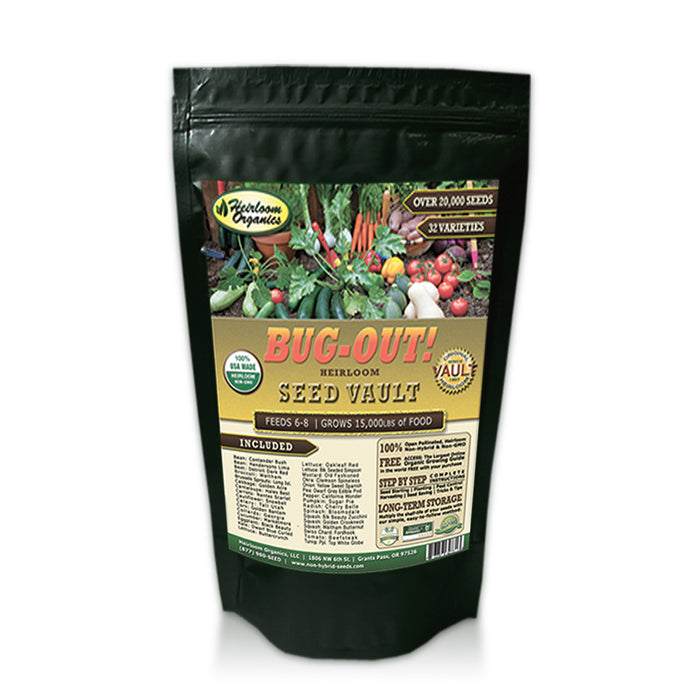 Bug Out Seed Vault
Original price
$ 24.95 USD
Original price
$ 24.95 USD
-
Original price
$ 24.95 USD
Original price
$ 24.95 USD
Current price
$ 19.95 USD
$ 19.95 USD
-
$ 19.95 USD
Current price
$ 19.95 USD
Sold out
Item Number:
713757627313
Bug Out Seed Vault
Note: Our Quality Assurance Team is currently screening for a clean lot of this item. At this time we have no estimated date of availability and will post an update as soon as we know. We do appreciate your business with us and your patience while we complete this process.
**For 48 contiguous United States and Canada Shipping Only**
Be ready for anything with the Bug-Out Vault of heirloom seeds. 32 Varieties, over 20,000 seeds. 100% Non-GMO, Non-Hybrid and Heirloom. Keep in your bug-out bag or use today to create a home garden for years to come. Varieties are chosen to grown anywhere in the U.S.
32 Varieties
20,000 + seeds
Feeds 6-8 people
Moisture proof
4 mil Mylar Packaging
100% Non-hybrid, Non-GMO, Heirloom Seeds
Details: 
Bush Bean - approx. 22 Seeds
Lima Bean - approx. 17 Seeds
Beet - approx. 181 Seeds
Broccoli - approx. 353 Seeds
Brussels Sprouts - approx. 282 Seeds
Cabbage - approx. 847 Seeds
Cantaloupe - approx. 25 Seeds
Carrots - approx. 1761 Seeds
Cauliflower - approx. 610 Seeds
Celery - approx. 3086 Seeds
Collards - approx. 1411 Seeds
Corn - approx. 26 Seeds
Cucumber - approx. 45 Seeds
Eggplant - approx. 102 Seeds
Kale - approx. 296 Seeds
Leaf Lettuce - approx. 2370 Seeds
Butterhead Lettuce - approx. 2370 Seeds
Romaine Lettuce - approx. 1580 Seeds
Mustard - approx. 2540 Seeds
Okra - approx. 53 Seeds
Onion - approx. 141 Seeds
Pea - approx. 25 Seeds
Pepper - approx. 45 Seeds
Pumpkin - approx. 16 Seeds
Radish - approx. 367 Seeds
Spinach - approx. 132 Seeds
Zucchini - approx. 25 Seeds
Summer Squash - approx. 10 Seeds
Winter Squash - approx. 29 Seeds
Swiss Chard - approx. 106 Seeds
Tomato - approx. 176 Seeds
Turnip - approx. 1250 Seeds