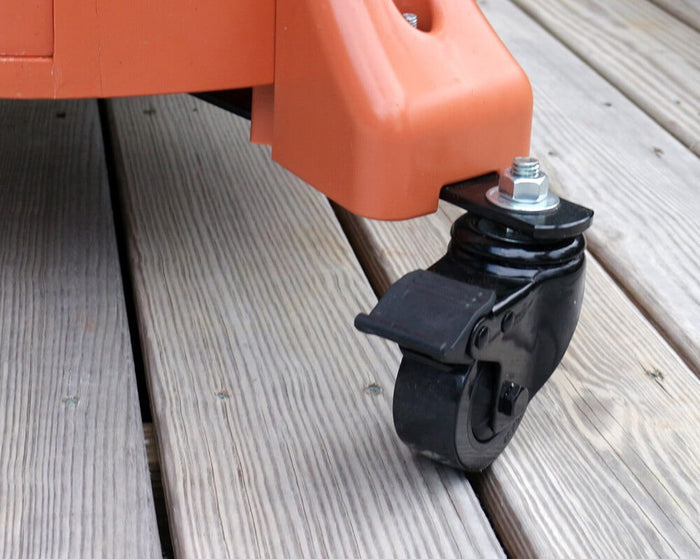 Garden Tower® 2 Premium Caster Wheel Kit (double locking black caster versions)
Original price
$ 123.95 USD
-
Original price
$ 123.95 USD
Original price
$ 123.95 USD
$ 123.95 USD
-
$ 123.95 USD
Current price
$ 123.95 USD
Item Number:
GT2_CasterKit-Blk-LK
Garden Tower® 2 Premium Caster Wheel Kit (double locking black caster versions)
**For US Contiguous State only**
**This item ships directly from the vendor, choice of carrier is not optional.  Vendor will ship item(s) per their discretion**
This premium kit includes a USA-made laser-cut and double powder coated heavyweight steel support structure, hardware, and three heavy duty double locking (rotational axis locking) triple ball bearing black casters (imported).
This kit is required for using caster wheels directly with the Garden Tower® vertical container gardening and composting system** (DO NOT PLACE CASTER WHEELS DIRECTLY INTO THE FEET OF THE TOWER)

The Garden Tower® 2 already rotates easily with its internal bearing system; this kit is designed for customers that want to move their Garden Tower® 2 easily or frequently. Unlike platforms and dollies, this kit mounts securely to the base which makes the tower more stable during transport.

Our Black Premium Casters feature:

3-inch premium extra-wide, smooth polyurethane ball bearing wheels (soft rolling but highly durable composite wheels)

Heavy-duty, high torque double axis brakes that are easy to use (best available brakes in the industry)

Black-zinc dipped coating for enhanced weather resistance

220lb load rating per caster

Our extra heavy-duty Steel Support Structure:

Positions the caster wheels beyond the center of the Garden Tower 2 feet for a wider footprint to maintain the original stability of the garden tower vertical container gardening and composting system.

Constructed of 0.24" (very heavy) American Structural Steel stays which are laser-cut for precision

Professionally double powder coated for maximum resistances to the elements

All required hardware is included
Assembly is required:

Recommended tools: small standard socket set, adjustable crescent wrench
CAUTION: A) INSTALLING THIS CASTER KIT WHILE A GARDEN TOWER IS LOADED (IN USE) IS INHERENTLY DANGEROUS. B) GARDEN TOWERS ARE HEAVY/BULKY AND INCREASING THE MOBILITY OF A TOWER CREATES POTENTIAL RISKS IN CERTAIN ENVIRONMENTS (E.G. ROOFTOPS, BALCONIES, DECKS, PORCHES, ETC).

ADVISEMENT: DO NOT PLACE CASTER WHEELS DIRECTLY INTO THE FEET OF THE TOWER. THE "Garden Tower® 2 Premium Caster Kit" IS DESIGNED TO PROPERLY SUPPORT THE BASE OF THE TOWER FOR LONG-TERM USE OF CASTERS.
View or download the instructions here. 
Garden Tower 2 Caster Kit Installation
Return Policy:
Please contact Health Ranger Store Customer Service for your return authorization. Do not contact the Manufacturer directly.

Warranty:
The Steel Support Structure is LIFETIME WARRANTIED against mechanical failure (such as bending or breaking);

The caster wheel & zinc-plated hardware are warrantied for 3 years against mechanic failure (functionality of the bearings, braking systems, integrity of the wheels, etc.)