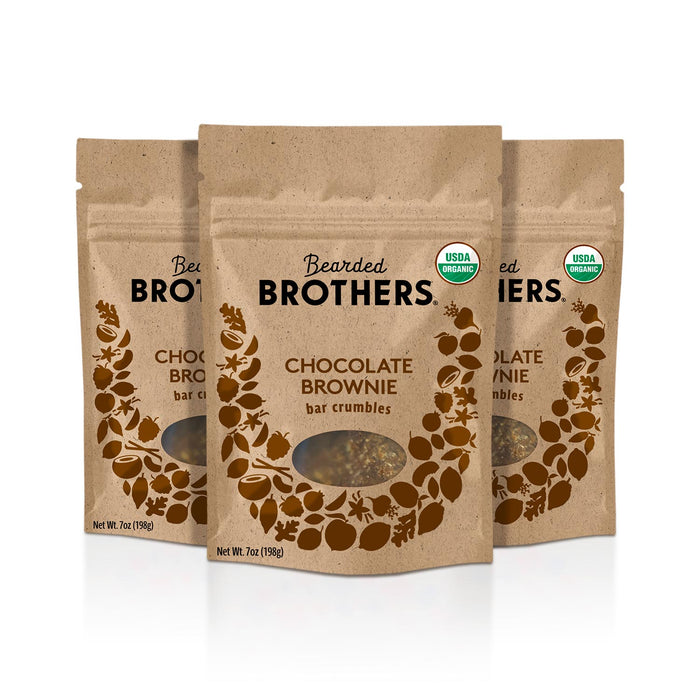 Chocolate Brownie Bar Crumbles (3-Pack)
Original price
$ 29.97 USD
Original price
$ 29.97 USD
-
Original price
$ 29.97 USD
Original price
$ 29.97 USD
Current price
$ 29.95 USD
$ 29.95 USD
-
$ 29.95 USD
Current price
$ 29.95 USD
Sold out
Item Number:
850037634033_3com
Chocolate Brownie Bar Crumbles (3-Pack)
Chocolate lovers unite with our new Chocolate Brownie Yo! Bar crumbles! These crumbles are perfect mixed in with baked oatmeal or by themselves as a midday chocolatey treat. 

Clean. Simple. Organic. Truly Delicious.

Your favorite bar... just crumbled up! At Bearded Brothers, we use the highest quality of organic ingredients we can find, keep it simple, and produce our crumbles in small batches, ensuring you're getting food you can feel good about eating and sharing.

Best enjoyed as:

A healthy snack
A topping on your yogurt or smoothie
A handful on-the-go
Part of a homemade trail mix
Anyway you'd like

WHAT YOU'LL LOVE ABOUT BEARDED BROS
At Bearded Brothers, we know that finding clean, simple, and organic snacks is difficult. That's why we take pride in creating great-tasting food that you can feel good about eating and sharing. Made with the highest quality ingredients, we craft our snacks from our commercial kitchen in Austin, TX. Our products are made in small batches by those who care most, ensuring that you receive a nutritious experience worth enjoying.
USDA Organic
Gluten-free
Vegan
Kosher
Paleo
Plant-Based
No Added Sugar


Ingredients: Organic dates, organic dark unsweetened chocolate, organic almonds, organic cocoa powder

Contains: Almonds


WHAT YOU'LL NEVER FIND IN OUR BARS
Proteins: Soy Protein Isolate, Pea Protein Concentrate, Whey Protein Isolate, Casein, Brown Rice Protein

Sweeteners: Brown Rice Syrup, Stevia, Sugar Alcohols, Honey, Agave Nectar, Corn Syrup, Erythritol, Tapioca Syrup

Binding Agents: Vegetable Glycerin, Soy Lecithin, Tapioca Fiber, Soluble Corn Fiber, Sunflower Lecithin, Palm Oil

Net Wt. 7oz (198g)