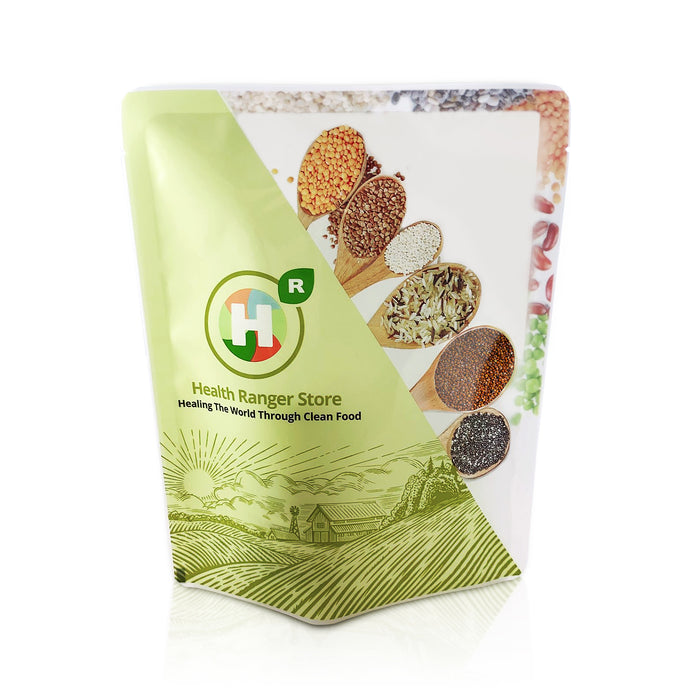 Organic Red Quinoa 12 oz (340g)
Original price
$ 13.95 USD
Original price
$ 13.95 USD
-
Original price
$ 13.95 USD
Original price
$ 13.95 USD
Current price
$ 11.95 USD
$ 11.95 USD
-
$ 11.95 USD
Current price
$ 11.95 USD
Sold out
Item Number:
050742585365
Organic Red Quinoa 12 oz (340 g)
Note: Because they are vacuumed sealed, our red quinoa shelf life is extended beyond normal packaging methods.
Also known as the "Gold of the Incas," quinoa is a nutritional powerhouse that offers a wide array of antioxidants, vitamins and minerals. Considered by many to be the world's most ancient superfood, this remarkable dietary staple has been cultivated in the Andes for thousands of years.


With its impressive nutritional profile, organic quinoa is one of the most protein-rich foods known to man. Unlike most grains, it contains all the essential amino acids, making it a perfect protein source for vegans, vegetarians and meat-eaters alike. Plus, it naturally contains no gluten and has a low glycemic index.


Health Ranger Select Organic Red Quinoa is vegan, non-GMO, non-China and certified Kosher and organic. It contains no gluten and is extensively lab tested for glyphosate, heavy metals and microbiology. With its crunchy texture and nutty flavor, our premium red quinoa variety is highly versatile and can be mixed with almost anything.   
Health benefits of quinoa**


Supports sensible weight management plans
– Quinoa contains high levels of protein and fiber, both of which help make you feel fuller for longer. Combined with regular exercise and a well-balanced diet, quinoa can support sensible weight management goals.
Promotes healthy cardiovascular function
–
Because quinoa is a complex carbohydrate with a low glycemic index, it supports healthy blood sugar levels that are already within the normal range. This heart-healthy superfood also contains potassium and magnesium which are necessary for maintaining the healthy functions of your heart and blood vessels. 
Supports healthy digestion
– Not only is quinoa easy to digest, it also has prebiotic properties that support the friendly bacteria in your gut. Additionally, the high fiber content of quinoa promotes healthy digestion and regular bowel function. 
Promotes healthy metabolism
– Quinoa contains riboflavin, a B-vitamin that plays a crucial role in supporting healthy metabolic function and energy production. You can maintain a healthy metabolism by incorporating quinoa and other riboflavin-rich foods into your daily diet.      
Supports strong and healthy bones
– Calcium isn't the only thing you need for strong and healthy bones; magnesium is also crucial for optimal calcium absorption. Both of these minerals can be found in quinoa.
How to best enjoy quinoa


Red quinoa has a stronger flavor than white quinoa, and a firmer and crunchier texture, making it well-suited for salads. Red quinoa may take slightly longer to cook than its white counterpart but you'll end up with a delicious superfood comparable to brown rice. There are many ways quinoa can be incorporated into your daily diet. Quinoa can be ground into flour for baking applications or boiled and added directly to salads, chowders, casseroles, burrito bowls, pastas and more. Instead of boiling it in plain water, you can try boiling quinoa in chicken, beef or vegetable broth instead for a unique added flavor. Eat quinoa as a side dish alongside fish or chicken. You can even use it in place of other grains in a variety of dishes, such as soups, stews, porridge and pilaf.


NOTE:
Soak the quinoa before cooking to get the full nutritional benefits and optimal taste.
Learn more about Health Ranger Select Organic Quinoa!
USDA Organic
Kosher-Certified

Glyphosate-Tested
Vegan
Non-GMO
Laboratory-Verified
China-Free
Vacuum-Sealed

Serving size: 0.35 oz (10 g)
Servings per container: 34

Ingredients: Organic red quinoa

Product of Peru
Glyphosate-Tested


This product is verified A+++ based on glyphosate analysis standards published at www.GlyphosateTested.com.

This means the product has been tested via triple quad mass spec (LS-MS-MS) and conforms to the glyphosate / AMPA limits required for an A+++ rating as described at www.GlyphosateTested.com.
 Low Heavy Metals Verified!

This product is verified A+++ according to the heavy metals standards published at www.LowHeavyMetalsVerified.org 

This means the product has been tested via ICP-MS and confirmed to meet the limits for an A+++ rating as described at LowHeavyMetalsVerified.org.