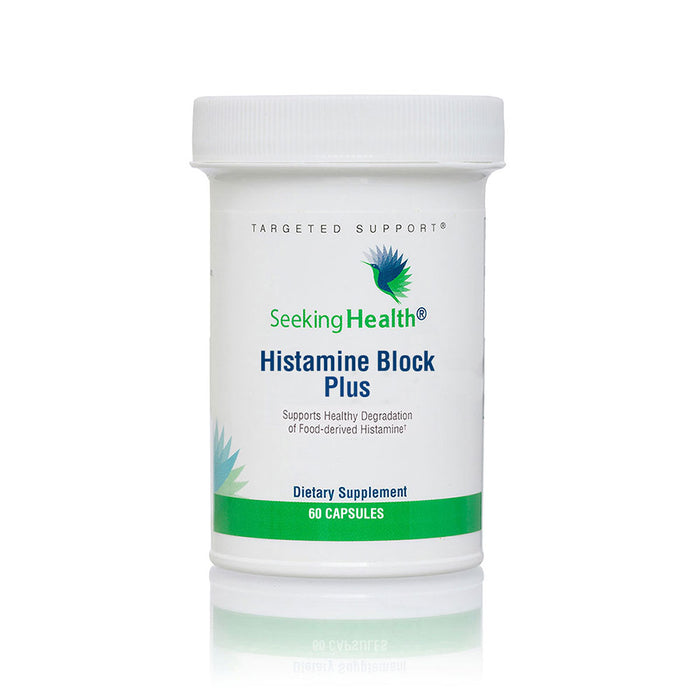 Histamine Block Plus - 60 Capsules
Original price
$ 64.95 USD
-
Original price
$ 64.95 USD
Original price
$ 64.95 USD
$ 64.95 USD
-
$ 64.95 USD
Current price
$ 64.95 USD
Sold out
Item Number:
810007521589
Histamine Block Plus - 60 Capsules
Key Benefits and Actions*

Promotes a healthy response to high-histamine foods
Enhanced with cofactor nutrients for total histamine processing
Great for supporting histamine intolerance protocols

Too much histamine in your body can contribute to symptoms such as flushing, runny nose, sleep difficulties, and/or headaches. These pesky symptoms can be the result of slowed enzyme activity in your histamine pathway. While DAO is the main enzyme responsible for breaking down food-derived histamine in your gut, other enzymes also play critical roles in metabolizing histamine produced in your body. To support your entire histamine pathway, Dr. Ben Lynch formulated one of the first and only products including the specific nutrients your histamine enzymes need to function.*

Histamine Block Plus is a comprehensive formula containing seven essential nutrient cofactors plus powerful antioxidants to support total histamine metabolism in each and every cell.*

Toxic byproducts are created when histamine is metabolized, such as ammonia, hydrogen peroxide, and acetaldehyde that can cause side effects and cell damage. Histamine Block also contains nutrient cofactors to support the normal breakdown of these toxic byproducts.*

Histamine Block Plus is a synergistic blend of nutrients designed to support the normal breakdown of histamine through multiple enzymatic processes, as well as neutralizing the toxic byproducts of histamine, using key nutrients:*


DAO — Contains 5,000 HDU of a patented DAO, a major enzyme responsible for breaking down histamine
Copper — A nutrient cofactor for the DAO enzyme
SAMe — A nutrient cofactor for the HNMT enzyme, another major enzyme involved in histamine breakdown
Alpha Keto-Glutarate — Supports the normal breakdown of ammonia, which is a toxic byproduct of histamine metabolism
Riboflavin — A nutrient cofactor for the MAOA and MAOB enzymes, which aid in neutralizing histamine toxic byproducts
Zinc and Vitamin B3 — Nutrient cofactors for the ALDH enzyme family, which help to break down acetaldehyde, a toxic byproduct of histamine metabolism

These key nutrients plus other powerful ingredients create the perfect support to your histamine intolerance protocol. Finally, you can experience a healthy response to histamine!*

Suggested Use

Take 2 capsules no more than 15 minutes before consumption of histamine-rich foods, or use as directed by your healthcare professional.

Warnings

Children and pregnant or lactating women should consult their healthcare practitioner prior to use. This product contains an ingredient derived from porcine (pig). Avoid if allergic to pork or any other ingredient. Histamine Block Plus is NOT EFFECTIVE for symptoms of immune-related food allergies, such as peanuts, shellfish, etc., or for gluten intolerance due to sensitivity or celiac disease. DAO is not absorbed and does not have systemic activity. Histamine Block Plus does not manage or address antibody-related or IgE-related food allergies.

Allergy and Diet Information

Histamine Block Plus is NOT suitable for vegans or vegetarians, as it contains porcine-derived ingredients.
Histamine Block Plus is free of milk, egg, fish, shellfish, tree nuts, peanuts, wheat, soy, gluten, GMOs, artificial colors, artificial flavors, and artificial preservatives.
Histamine Block Plus meets or exceeds cGMP Quality Standards.

Storage

Keep tightly closed in a cool, dry place out of reach by children.