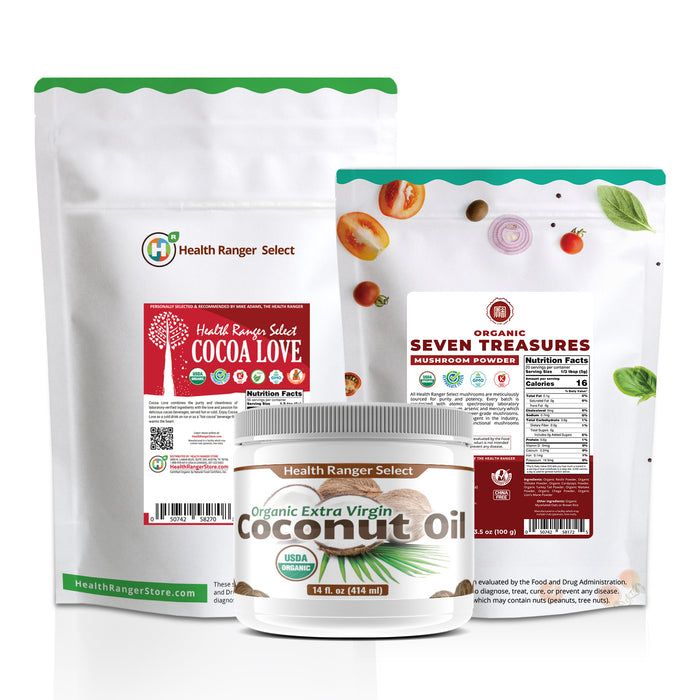 Medicinal Mushroom Latte Combo Pack
Original price
$ 69.95 USD
Original price
$ 69.95 USD
-
Original price
$ 69.95 USD
Original price
$ 69.95 USD
Current price
$ 54.95 USD
$ 54.95 USD
-
$ 54.95 USD
Current price
$ 54.95 USD
Sold out
Item Number:
654725497_3com
Medicinal Mushroom Latte Combo Pack
1 x Organic Seven Treasures Mushroom Powder 3.5oz (100g)
1 x Health Ranger Select Organic Cocoa Love 12oz
1 x Organic Extra Virgin Coconut Oil 14 oz


Organic Seven Treasures Mushroom Powder 3.5oz (100g)
All Health Ranger Select mushrooms are meticulously sourced for purity and potency and exclusively grown in the USA. Every batch is scrutinized with atomic spectroscopy laboratory testing for lead, cadmium, arsenic and mercury which are often contaminants in lower-grade mushrooms. Our limits are the most stringent in the industry, resulting in the cleanest functional mushrooms available on planet Earth.
USDA Organic

Kosher Certified

Glyphosate tested

Vegan

Non-GMO

Laboratory Verified

China Free 
Serving size: 1/3 tsp (5g)
Servings per container: 20
Ingredients: Organic Reishi Powder, Organic Shiitake Powder, Organic Cordyceps Powder, Organic Turkey Tail Powder, Organic Maitake Powder, Organic Chaga Powder, Organic Lion's Mane Powder, Organic myceliated brown rice
Health Ranger Select Organic Cocoa Love 12oz
Health Ranger Organic Cocoa Love blends together rich, lab-verified organic cocoa with organic coconut sugar to bring you a healthy, relaxing beverage. Whether you like it piping hot or served with ice, there's nothing like this cocoa blend to brighten your day.
Learn more about Health Ranger's Cocoa Love
USDA Organic
Vegan
Glyphosate-tested
Non-GMO
Certified Kosher
China Free
Laboratory-Verified
Ingredients: Organic Coconut Sugar and Organic Cocoa Powder
Product of USA
Organic Extra Virgin Coconut Oil 14 oz
Get the most out of this spectacular superfood with the Health Ranger's Organic Extra Virgin Coconut Oil. We've done everything we can to make our coconut oil stand above the rest, including but not limited to:
Lab verifying it for heavy metals and purity: Our coconut oil goes through intense scrutiny and verification in our lab.

Gently processed without using chemicals and bleach: The refining process of regular coconut oil calls for chemicals and bleach, both of which we've made sure our coconut oil never comes into contact with.

Making it zero-China: Rest assured that our coconut oil is carefully sourced from reliable growers.

Keeping it real: Health Ranger Select Organic Extra Virgin Coconut Oil is USDA-certified organic, non-GMO, kosher, and TRULY natural.
Benefits of coconut oil*:
Great source of Medium-Chain Fatty Acids

Supports healthy brain function

Supports healthy digestion

Promotes healthy hair and skin

Fuels your body after workouts
The Health Ranger's top 6 favorite coconut oil uses
Cooking: The healthy saturated fats of coconut oil give it a high smoke point, making it the ideal oil for cooking.

Smoothies: Add creaminess to your smoothies with one to two tablespoons of coconut oil. This is also a delicious way to reap its many benefits.

Baking: Did you know that you can bake with coconut oil? Use it as a healthy substitute for butter or vegetable oil.

Moisturizing: Warm a pea-sized dollop on your hand and rub it into your skin in a circular motion. Allow it to sit for five minutes before wiping it away to reveal smooth and supple skin.

Oil pulling: In the morning, swish one tablespoon of coconut oil in your mouth for 10 to 20 minutes. Do not swallow. Spit the oil in the trash can afterwards (not in the sink) and rinse with sea salt water for unbeatable freshness.

Conditioner alternative: Warm coconut oil in the palms of your hands and work it into dry or damp hair. Comb it to distribute it evenly then allow it to sit for 30 minutes or longer. Remove the coconut oil with shampoo and warm water.
USDA Organic
Kosher Certified
Vegan
Glyphosate Tested
Non-GMO
Laboratory Verified
China Free
Contains no artificial sweeteners, preservatives or synthetic ingredients 
Obtained from natural sources and is not chemically modified
Ingredients: Organic Extra Virgin Coconut Oil

Product of the Philippines
Medicinal Mushroom Latte Recipe
Kick start your morning with this healthy kit!
Ingredients:
1 cup unsweetened cashew milk
1 tsp. Organic Seven Treasures Mushroom Powder (or any variety)
1 tsp. Organic Extra Virgin Coconut oil
3 tsp. Health Ranger Select Organic Cocoa Love (or Coco Mojo - Organic Powder Blend)

Directions:
1. Heat all ingredients together in a saucepan.
2. Stir until all the ingredients dissolve.
3. Pour into a mug.

For extra energy boost (and coffee lovers) - use 1/3 cup coffee and 2/3 cup cashew milk instead!

Enjoy!