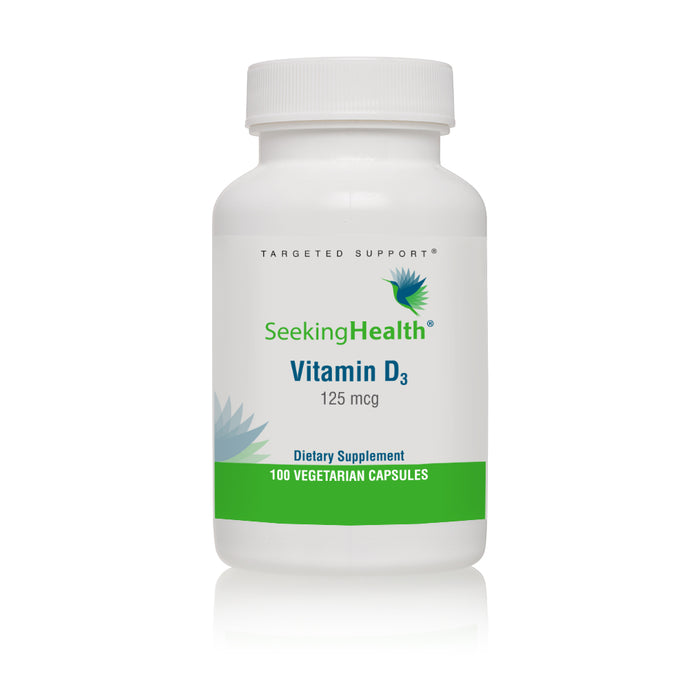 Vitamin D3 - 100 Capsules
Original price
$ 14.95 USD
-
Original price
$ 14.95 USD
Original price
$ 14.95 USD
$ 14.95 USD
-
$ 14.95 USD
Current price
$ 14.95 USD
Sold out
Item Number:
810007521329
Vitamin D3 - 100 Capsules
Key Benefits and Actions*
May help support healthy growth and development
May help support bone health as part of a healthy diet rich in calcium and other minerals
May help support a healthy immune system
May help support mineral absorption

Vitamin D3 by Seeking Health is a pure and potent vitamin D3 supplement in a vegetarian capsule that provides 125 mcg (5,000 IU) of cholecalciferol. Many people do not get sufficient vitamin D3 in their diet, and the synthetic vitamin D2 that is often added to dairy products is considered an inferior form of this vital nutrient. Vitamin D3 occurs naturally in fatty fish, cod liver oil, egg yolks, and beef liver. Vitamin D3 contains cholecalciferol derived from cholesterol in sheep's wool, making it suitable for vegetarians.*

Vitamin D is essential for the functioning of many important systems in the body, and recent research has suggested that we may need more vitamin D than previously thought for optimal immune function and long-term health. In some climates, people may be able to produce adequate vitamin D3 from sunlight, but in cooler climates with longer winters, vitamin D deficiency may be more common.*

Vitamin D is required for optimal absorption of minerals including calcium, making it an important nutrient for supporting healthy bones and structural health. It may also play a role in supporting immune health and cellular integrity.*


Suitable for Vegetarians
Free of:
Milk, Egg, Fish, Shellfish, Tree Nuts, Peanuts, Wheat, Soy, Gluten, GMO, Artificial Colors, Artificial Flavors

Suggested Use: Take 1 capsule daily with food or as directed by your healthcare professional.

Servings Per Container: 100

Other Ingredients: Microcrystalline cellulose, vegetarian capsule (hypromellose and water), ascorbyl palmitate, and silica.

Storage: Keep closed in a cool, dry place out of reach by children.

Warnings: Children and pregnant or lactating women should consult their healthcare practitioner prior to use. Do not use if tamper seal is damaged. Do not exceed suggested use without physician consultation.