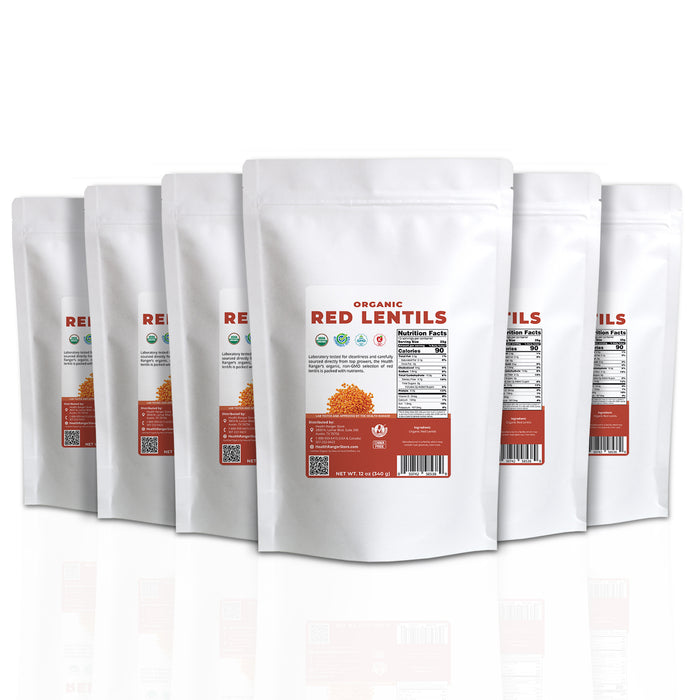 Organic Red Lentils 12 oz (340g) (6-Pack)
Original price
$ 77.95 USD
Original price
$ 77.95 USD
-
Original price
$ 77.95 USD
Original price
$ 77.95 USD
Current price
$ 56.95 USD
$ 56.95 USD
-
$ 56.95 USD
Current price
$ 56.95 USD
Sold out
Item Number:
050742585389_6com
Organic Red Lentils 12 oz (340g) (6-Pack)
Certified organic red-split lentils are now available from the Health Ranger Store! They are the perfect low-cost, high-nutrition solution for healthy living and food preparedness.

These small, round lentils are bursting with important nutrients like fiber, protein, folate, and magnesium. Unlike other legumes, there's no need to pre-soak them, so you can prepare them quickly. Even better, two servings of lentils will leave you feeling incredibly full and satisfied at only 326 calories, which can assist you in your weight-loss goals.*
Our air-drying process ensures these lentils retain their potent nutritional value and can stay on your shelf for longer without the need for refrigeration or preservatives. That makes them perfect for food preparedness and relatively quick meals that are packed with nutrition.
Explore More About Organic Red Lentils Now!
USDA Organic
Glyphosate Tested
Kosher Certified
Vegan
Non-GMO
Laboratory Verified
China-Free
Ingredients: Organic Red Lentils
Serving Size:
 25g
Serving per container:
 13
Product of

Turkey
**These statements have not been evaluated by the FDA. This product is not intended to treat, cure or diagnose any diseases.
Manufactured in a facility which may contain nuts (peanuts, tree nuts).
Glyphosate-Tested
This product is verified A+++ based on glyphosate analysis standards published at www.GlyphosateTested.com.
This means the product has been tested via triple quad mass spec (LS-MS-MS) and conforms to the glyphosate / AMPA limits required for an A+++ rating as described at www.GlyphosateTested.com.
Low Heavy Metals Verified!
This product is verified A+++ according to the heavy metals standards published at www.LowHeavyMetalsVerified.org
This means the product has been tested via ICP-MS and confirmed to meet the limits for an A+++ rating as described at LowHeavyMetalsVerified.org.