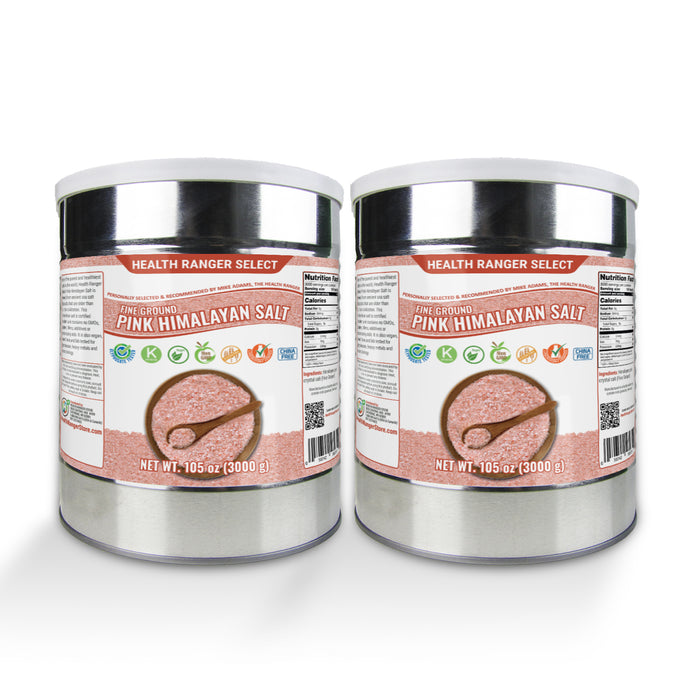 Himalayan Salt Fine Ground 3kg (6.6lbs) (#10 Can) (2-Pack)
Original price
$ 125.95 USD
Original price
$ 125.95 USD
-
Original price
$ 125.95 USD
Original price
$ 125.95 USD
Current price
$ 102.95 USD
$ 102.95 USD
-
$ 102.95 USD
Current price
$ 102.95 USD
Sold out
Item Number:
050742582319_2com
Pink Himalayan Salt Fine Ground 3kg (6.6lbs) (#10 Can) (2-Pack)
**We can NOT ship #10 Can to PO Boxes; we need a physical address**

**USA and Canada Shipping Only! (Due to the weight and volume of this product, it is restricted Internationally)**

**This product can be stored up to 10-15 years, depending on storage conditions. Keep it in a dark, cool, low-humidity location and it will last for an extended duration. Heat, humidity and light will degrade all storable foods**

A much healthier alternative to regular salt, pink Himalayan salt can contain up to 84 different beneficial trace minerals without the harmful additives often found in regular table salt. Aside from being one of the purest and healthiest salts in the world, it is also an underrated preparedness item that you can use for long-term storage. You can use it to create an emergency rehydration fluid, a saline solution, to preserve food and so much more.

Our Health Ranger Select Pink Himalayan Salt contains a full spectrum of electrolytes and trace minerals that are usually stripped away from regular table salt. It is mined from ancient sea salt deposits located deep inside the Himalayan Mountains using the traditional room and pillar mining method. The mined salt crystals are thoroughly inspected and sorted to ensure quality and purity.

Health Ranger Select Pink Himalayan Salt Fine Ground is not subjected to irradiation and contains no GMOs, gluten, anti-caking or bonding agents, additives or processing aids. It is also vegan, non-China, certified Kosher and lab tested for glyphosate, heavy metals and microbiology. Use a dash of pink Himalayan salt to season all your favorite recipes.


Health benefits of pink Himalayan salt**

Maintains healthy, glowing skin – Due to its high sodium content, pink Himalayan salt can help maintain optimal skin hydration. For this reason, it has been used in salt baths since ancient times.

Helps maintain healthy energy levels – When consumed in moderation, pink Himalayan salt can provide a variety of electrolytes, such as sodium, calcium and potassium. These minerals play important roles in maintaining healthy energy levels.   

Helps maintain normal electrolyte balance – Electrolytes are necessary for maintaining your body's fluid balance. Since you lose electrolytes when you sweat, you need to regularly replenish your body's electrolyte stores. Pink Himalayan salt is packed with sodium and other electrolytes to help keep your electrolyte levels optimal.

Helps maintain healthy blood pressure – According to a study that appeared in the World Journal of Nephrology, the sodium in pink Himalayan salt can help you maintain healthy blood pressure levels that are already within the normal range.
Glyphosate-Tested
Vegan
Certified Kosher
Non-GMO
China-Free
Gluten-Free
Laboratory Verified
Non-irradiated
Ingredients:
100% Himalayan pink crystal salt
Serving size:
1 g (1/8 tsp)
Serving per container:
 3000
Product of

Pakistan
Note: 
To ensure the longevity of storage and safety of our product sold in 
#10
 can packaging, we enclose the product inside Ziploc storage bags and placed inside our 
#10
 cans.  The Ziploc bags are BPA free, made for food grade products and have an exceptionally long shelf life.
#10

 Cans, Mini Buckets, and Health Ranger Buckets Return Policy
Due to the nature of our storage foods, all #10 cans, Mini-Buckets, and Ranger Buckets Sets will be subject to a 20% restock fee. All items must be shipped back within 30 days and must be unopened (including external seals in tact), in their original packaging and resalable condition.  Once received and inspected, we will refund your method of payment, less original shipping/delivery charges. If you are past the 30 day mark on your purchase, we will not accept the items back nor offer you a credit or refund.
Shelf Life: Minimum 10 years from production date.
**These statements have not been evaluated by the FDA. This product is not intended to treat, cure or diagnose any diseases.
Manufactured in a facility which may contain nuts (peanuts, tree nuts).
Glyphosate-Tested
This product is verified A+++ based on glyphosate analysis standards published at www.GlyphosateTested.com.
This means the product has been tested via triple quad mass spec (LS-MS-MS) and conforms to the glyphosate / AMPA limits required for an A+++ rating as described at www.GlyphosateTested.com.
Low Heavy Metals Verified!
This product is verified A+ according to the heavy metals standards published at www.LowHeavyMetalsVerified.org
This means the product has been tested via ICP-MS and confirmed to meet the limits for an A+ rating as described at LowHeavyMetalsVerified.org.