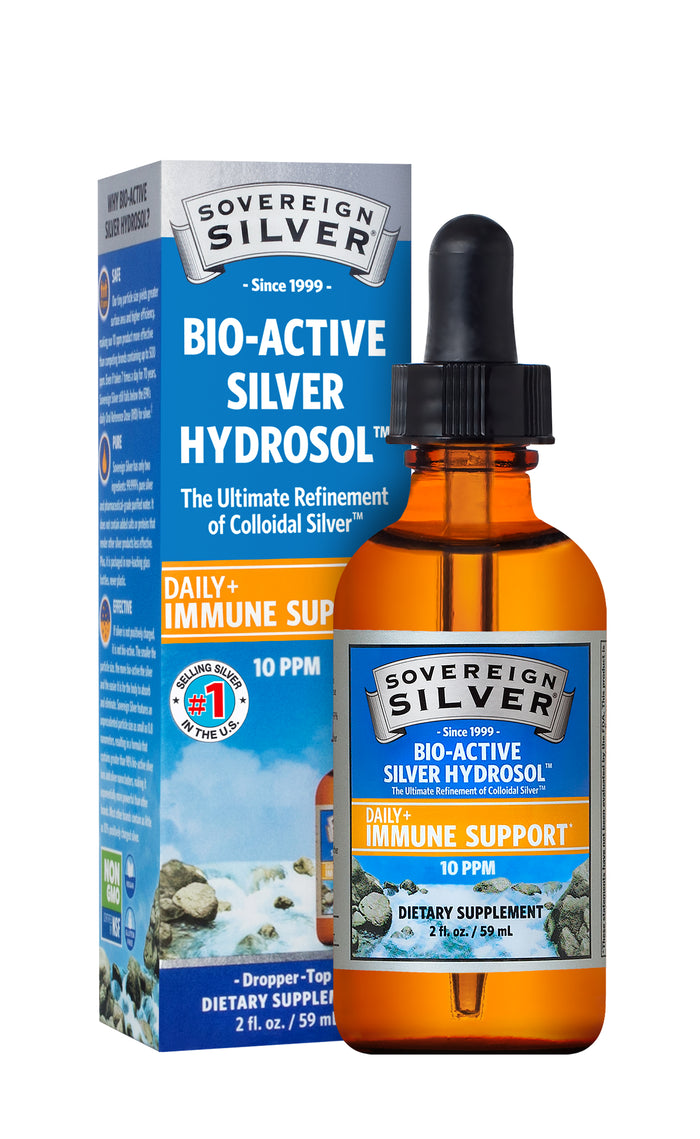 Sovereign Silver, Bio-Active Silver Hydrosol, 10 ppm, 2oz dropper
Original price
$ 14.99 USD
Original price
$ 14.99 USD
-
Original price
$ 14.99 USD
Original price
$ 14.99 USD
Current price
$ 12.99 USD
$ 12.99 USD
-
$ 12.99 USD
Current price
$ 12.99 USD
$ 2.00 USD

(13 %)
Item Number:
684088232364
Sovereign Silver, Bio-Active Silver Hydrosol, 10 ppm, 2oz dropper
Why Silver for Immune Support?

Silver has been used for more than 2,400 years to help safeguard human health. It is a natural element that can be found in whole grains, edible and medicinal mushrooms, mammalian milk, spring water, sea water and tap water.

From the time of Hippocrates, silver's health protective properties have been well-known and vastly researched. Silver was used to help protect the purity and safety of drinking water throughout ancient civilizations.

Why Bio-Activity is Important?

Some colloidal silver products of higher concentration (ppm) claim that one teaspoon equals multiple teaspoons of our 10 ppm product. On the contrary, scientific peer-reviewed literature has shown that silver is only useful when it is positively charged (bio-active). Bio-Active Silver Hydrosol, with greater than 98% bio-activity, is 8x more potent than a 250 ppm colloidal silver. Higher ppm also= risk of toxicity. There is simply no reason to use a higher ppm product.

Launched in 1999, Sovereign Silver Bio-Active Silver Hydrosol is the ultimate refinement of colloidal silver and has proudly been the #1 selling colloidal silver in the United States since 2005.

What About Safety?

Our tiny particle size yields greater surface area and higher efficiency, making our 10 ppm product more effective than competing brands containing up to 500 ppm. Even if taken 7 times a day for 70 years, Sovereign Silver still falls below the EPA's daily Oral Reference Dose (RfD) for silver.†

How Pure is Sovereign Silver?

Sovereign Silver has only two ingredients: 99.999% pure silver and pharmaceutical-grade purified water. It does not contain added salts or proteins that render other silver products less effective. Plus, it is packaged in non-leaching glass bottles, never plastic.

Get a close-up look at Sovereign Silver, magnified 110,000x, compared to numerous popular silver products available on the market today.

Is it Effective?

If silver is not positively charged, it is not bio-active. The smaller the particle size, the more bio-active the silver and the easier it is for the body to absorb and eliminate. Sovereign Silver features an unprecedented particle size as small as 0.8 nanometers, resulting in a formula that contains greater than 98% bio-active silver ions and silver nanoclusters, making it exponentially more powerful than other brands. Most other brands contain as little as 10% positively charged silver.


Safe
Pure
Effective
Natural
Vegan
Gluten-Free
Non-GMO
Dairy-Free
Directions:

For Adults:

Please be aware that federal regulations limit dietary supplements to oral administration, even if structure/function claims may be specific to certain body parts.

Maintenance Dose*– Once daily, hold 1 tsp. under tongue for 30 seconds before swallowing.
Immune-Building* – 3 times daily
Long-Term Immune Support* – 5 times daily
Short-Term Immune Support* – 7 times daily

--------------------------------------------------------------------------------------
Testimonials

"Sovereign Silver is the immune support supplement that outperforms the others. I know. I use it myself. I give it to my grandchildren. It's the only one I recommend to customers."*
- Linda K. Gifford, Nutritional Consultant and owner since 1982 of Earthen Treasures Natural Food Market, Berne, IN

"It is without hesitation that I support and applaud Natural Immunogenics for making a pure and effective silver hydrosol product safe for public use."
- Dr. Dana Flavin, MD, Founder & Executive Director, Foundation for Collaborative Medicine & Research; former Science Assistant to the Associate Bureau Director, Division of Toxicology, US FDA, Washington, DC

"After using my first bottle years ago, I found it replaced a number of my favorite holistic products. You can put my name on record as proof of its extraordinary qualities. Sovereign Silver was an answer to my prayers… and I don't use that word lightly."*
- Diane. A., Valencia, CA
----------------------------------------------------------------------------------------------
*These statements have not been evaluated by the FDA. This product is not intended to diagnose, treat, cure, or prevent any disease.

According to the EPA (CASRN 7440-22-4) daily Oral Silver Reference Dose (RfD) applied to 10 ppm, one may ingest 178,850 dosages safely over 70 years.