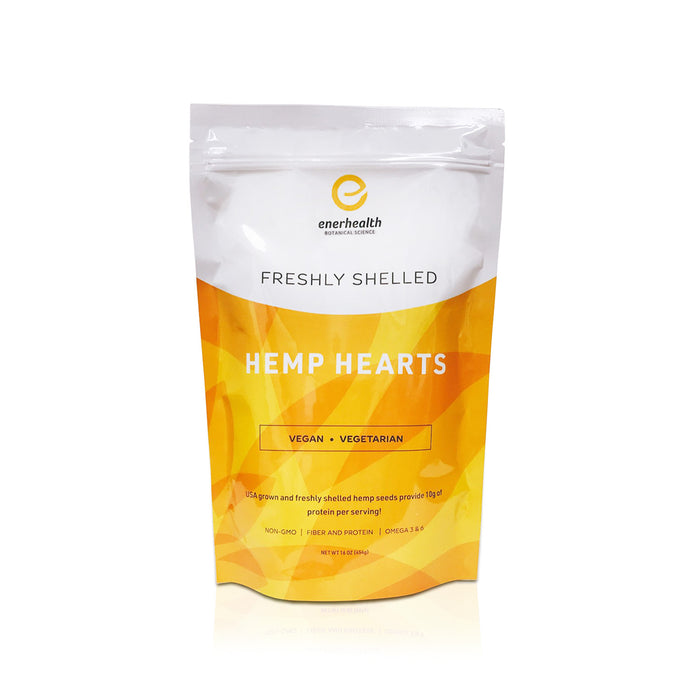 Hemp Hearts 16oz (454g)
Original price
$ 14.99 USD
-
Original price
$ 14.99 USD
$ 14.99 USD
-
$ 14.99 USD
Current price
$ 14.99 USD
Sold out
Item Number:
858764001753
Hemp Hearts 16oz 
(454g)
Canada Customs is now restricting all Hemp Products (including food) from our store to be shipped into Canada. All Hemp Products are now restricted from being shipped into Canada.
**Refrigerate after opening**
The freshest Hemp Hearts available on the market today!  Ethically grown right here in Colorado, USA.
EnerHealth Botanicals is proud to introduce freshly shelled raw hemps seed hearts that are ethically grown and harvested in Colorado, USA. The shell has been removed from the seed, making it easy to digest. This little seed has a big heart, packing a powerful nutritious punch! Each serving provides 10g of protein, 2.5g of Omega-3, and 8.5g of Omega-6 fatty acids. The heart of the hemp seed has a rich nutty flavor and a tender chewy texture. 
Sprinkle them on cereal, salads, yogurt, fruit, or any food you can imagine to boost your nutrition and spread the Love!