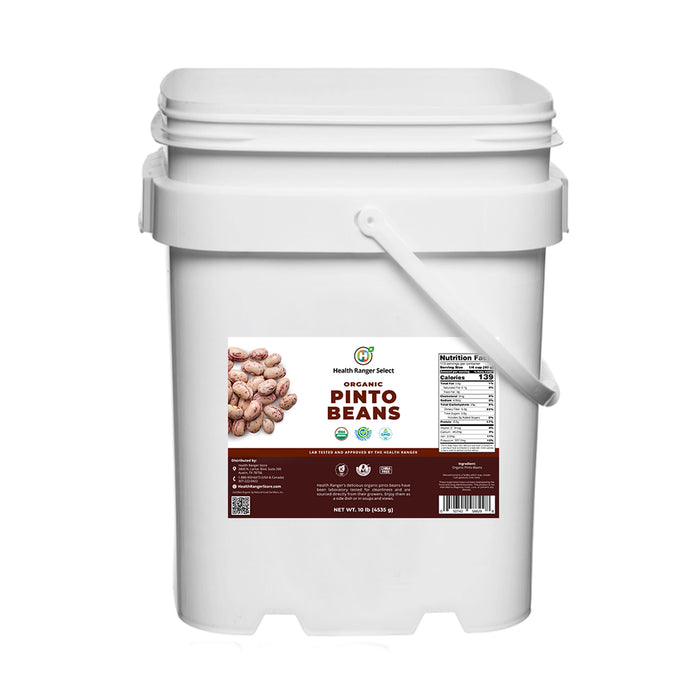 Mega Bucket Organic Pinto Beans (10LB, 4535g)
Original price
$ 95.95 USD
Original price
$ 95.95 USD
-
Original price
$ 95.95 USD
Original price
$ 95.95 USD
Current price
$ 79.95 USD
$ 79.95 USD
-
$ 79.95 USD
Current price
$ 79.95 USD
$ 16.00 USD

(17 %)
Item Number:
050742588298
Mega Bucket Organic Pinto Beans (10LB, 4535g)
This item is 10lbs of product, sealed into 5 x 2lb packages and stored in a 2 gallon bucket.
 *Mega Buckets only available to ship to US or Canada*
*We can NOT ship Mega

 

Buckets to a PO Box address*
Free Shipping (within the 48 contiguous United States only) is via FedEx or UPS. If you want it shipped via USPS, you will need to pay for "STANDARD" shipping.
With a myriad of health benefits, pinto beans are also delicious and can be consumed in many forms. They're packed with protein (a cup of boiled pinto beans has 15 grams of lean protein), fiber, iron, magnesium and vitamin B6. Rich in nutrients, but low in fat, pinto beans nourish you but contain no empty calories.
Explore More About Organic Pinto Beans Now!
USDA Organic
Glyphosate Tested
Kosher Certified
Vegan
Non-GMO
Laboratory Verified
China-Free
Ingredients: Organic Pinto Beans
Serving Size:
 1/4 cup (40g)
Serving per container:
 113
Product of USA
#10

 Cans, Mega Buckets, and Health Ranger Buckets Return Policy
Due to the nature of our storage foods, all #10 cans, Mega-Buckets, and Ranger Buckets Sets will be subject to a 20% restock fee. All items must be shipped back within 30 days and must be unopened (including external seals in tact), in their original packaging and resalable condition.  Once received and inspected, we will refund your method of payment, less original shipping/delivery charges. If you are past the 30 day mark on your purchase, we will not accept the items back nor offer you a credit or refund.
**These statements have not been evaluated by the FDA. This product is not intended to treat, cure or diagnose any diseases.
Manufactured in a facility which may contain nuts (peanuts, tree nuts).
Glyphosate-Tested
This product is verified A+++ based on glyphosate analysis standards published at www.GlyphosateTested.com.
This means the product has been tested via triple quad mass spec (LS-MS-MS) and conforms to the glyphosate / AMPA limits required for an A+++ rating as described at www.GlyphosateTested.com.
Low Heavy Metals Verified!
This product is verified A+++ according to the heavy metals standards published at www.LowHeavyMetalsVerified.org
This means the product has been tested via ICP-MS and confirmed to meet the limits for an A+++ rating as described at LowHeavyMetalsVerified.org.

Customer Reviews
First time having Pinto beans
I experimented this pinto bean and made a dessert out of it. It was very good! Back in the Philippines, we have what we call halo-halo - a sweet Filipino desert very good for summer moths, like right now in Australia. I mixed it with young coconut meat and fresh juice; then chilled it. My baby loves it too! Yum!