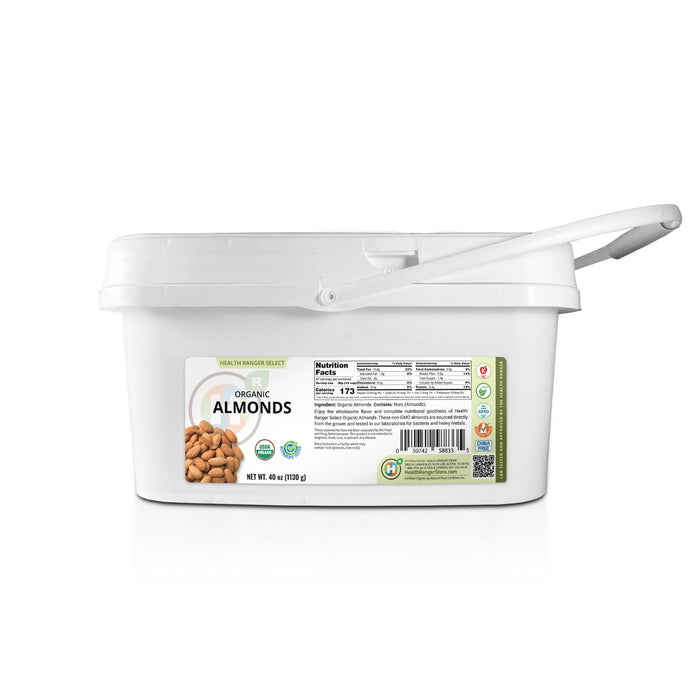 Mini-Bucket Organic Almonds 40oz (1130g)
Original price
$ 79.95 USD
Original price
$ 79.95 USD
-
Original price
$ 79.95 USD
Original price
$ 79.95 USD
Current price
$ 59.95 USD
$ 59.95 USD
-
$ 59.95 USD
Current price
$ 59.95 USD
$ 20.00 USD

(25 %)
Item Number:
050742588335
Mini -Bucket Organic, Raw, Unpasteurized, NON-irradiated Almonds 40oz (1130g)
***No guarantee they will sprout***
As one of the world's most popular raw nuts, organic almonds are healthy snacks with a long history of culinary use and great historical significance. They are packed with healthy fats, antioxidants, vitamins and minerals.  


Health Ranger Select Organic Raw, Unpasteurized, Non-Irradiated Almonds are exactly how almonds should be, complete with a wholesome flavor and a wealth of nutrients that have earned these nuts their title as a superfood. Our premium almonds contain no sugar, chemical flavoring, hydrogenated oils or added sodium, and are not treated with preservatives.


Our almonds are imported from trusted vendors in Italy and are not fumigated with PPO. They are raw, unpasteurized and non-irradiated. They are vegan, non-China, non-GMO and are certified organic and Kosher. They are also meticulously lab tested for heavy metals, microbiology and glyphosate to ensure that you get only the cleanest, high-quality almonds from clean sources. 
Health benefits of almonds**


Aside from boasting an impressive nutritional profile, almonds also offer a multitude of health benefits:


Support healthy brain function
– The potent antioxidants in almonds can protect the brain from oxidative stress and help maintain optimal cognitive function. Moreover, almonds are rich in protein, zinc, vitamin E and B6, all of which are important nutrients for supporting a healthy brain.
Promote a sensible weight management plan
– The high fiber content of almonds means that you stay full for longer periods of time after snacking on them. For this reason, they are a great way to support sensible weight management goals when accompanied by a healthy diet and proper exercise. Furthermore, almonds are low in carbohydrates.
Support healthy eye function
– Vitamin E is a potent antioxidant that can promote healthy vision by protecting your eyes from oxidative stress. Almonds contain high levels of vitamin E in the form of alpha-tocopherols. 
Promote healthy, glowing skin
– Almonds are one of the world's best sources of vitamin E, a nutrient known to support healthy, glowing skin. The potent antioxidant properties of the vitamin E and polyphenols in almonds also help keep your skin looking refreshed and revitalized.
Support a healthy digestive system
– Almonds support healthy digestion by providing beneficial vitamins and minerals, and by acting as food for the friendly bacteria in your gut.
Promote healthy bones and teeth
– Almonds contain calcium, magnesium and phosphorus, all of which are vital minerals that support strong bones and teeth.
Maintain healthy heart function
– Almonds contain high levels of antioxidants that promote optimal cardiovascular health. Moreover, they contain an abundance of monounsaturated fatty acids, such as oleic and palmitoleic acids. These heart-healthy "good" fats can support healthy cholesterol levels that are already within the normal range.
Support healthy energy levels
– As a potent superfood, almonds are also "energy-dense." This means that they pack a whole range of important nutrients and natural chemical compounds, including manganese, copper and riboflavin. These key nutrients play essential roles in supporting your body's natural energy levels.
Help maintain healthy blood sugar levels already in the normal range
– The carbohydrates found in almonds are partly composed of dietary fiber that your body cannot readily convert into glucose. Because of this, almonds are considered a low-glycemic index food.

HEALTH TIP: Enjoy almonds with their brown skin on as it contains the highest concentrations of powerful antioxidant flavonoids and polyphenols.
Not all almonds are created equally


Many store-bought almonds are coated in sugar, hydrogenated oils and excess sodium. Additionally, store-bought almonds usually undergo processing that diminishes the nuts' health benefits. These processes include heating at high temperatures, which destroys the almonds' natural antioxidant properties.


Moreover, almonds grown in the USA are required to be pasteurized or irradiated before being sold to consumers. They are also often laced with propylene oxide or PPO, a highly toxic carcinogen. Our almonds are NEVER fumigated, irradiated or treated with toxic chemicals. 


(Hint: They're not grown in California, where such treatments are mandated by state law.)
Explore More About Health Ranger Select Organic Raw Unpasteurized Non-irradiated Almonds Now!
USDA

Glyphosate Tested

Kosher Certified

Vegan

Non-GMO

Laboratory Verified

China Free
Serving size: 25g
Serving per container: 45
Ingredients: Organic Almonds

Product of Italy
#10

 Cans, Mini Buckets, and Health Ranger Buckets Return Policy
Due to the nature of our storage foods, all #10 cans, Mini-Buckets, and Ranger Buckets Sets will be subject to a 20% restock fee. All items must be shipped back within 30 days and must be unopened (including external seals in tact), in their original packaging and resalable condition.  Once received and inspected, we will refund your method of payment, less original shipping/delivery charges. If you are past the 30 day mark on your purchase, we will not accept the items back nor offer you a credit or refund.
Glyphosate-Tested
This product is verified A based on glyphosate analysis standards published at

 

www.GlyphosateTested.com.
This means the product has been tested via triple quad mass spec (LS-MS-MS) and conforms to the glyphosate / AMPA limits required for an A rating as described at

 

www.GlyphosateTested.com.
Low Heavy Metals Verified!
This product is verified A+++ according to the heavy metals standards published at

 

www.LowHeavyMetalsVerified.org
This means the product has been tested via ICP-MS and confirmed to meet the limits for an A+++ rating as described at

 

LowHeavyMetalsVerified.org.
Customer Reviews
The almonds from the health ranger store are the best, healthiest almonds that I have ever tasted. I don't ever want to buy almonds from my home state of California ever again.
I'm so thankful that the Health Ranger store provides safe, top quality, delicious almonds! Love 'em!