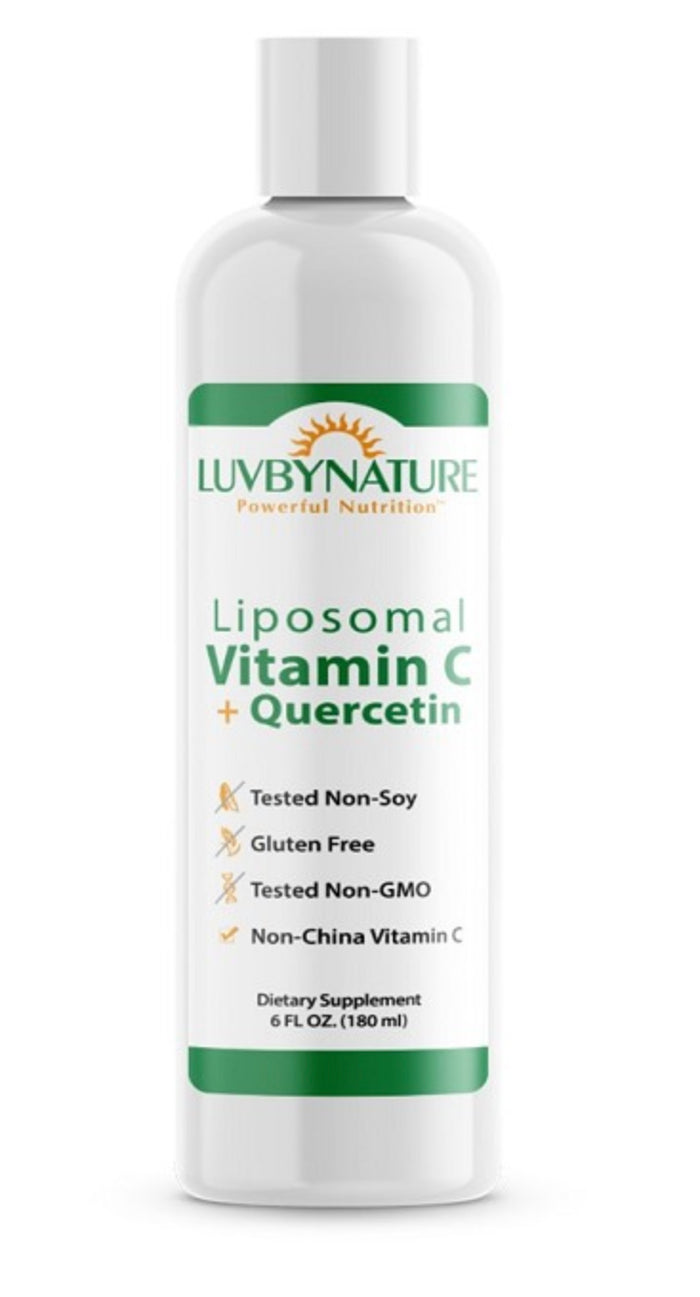 Liposomal Vitamin C + Quercetin, 6 fl oz (180 ml)
Original price
$ 45.00 USD
Original price
$ 45.00 USD
-
Original price
$ 45.00 USD
Original price
$ 45.00 USD
Current price
$ 42.75 USD
$ 42.75 USD
-
$ 42.75 USD
Current price
$ 42.75 USD
Sold out
Item Number:
737534720394
Liposomal Vitamin C + Quercetin, 6 fl oz (180 ml)
LuvByNature Liposomal Vitamin C + Quercetin uses a gentle process – with no heat, alcohol, high pressure or harmful solvents – we test to ensure that our liposomes are the right size, structure and integrity needed to perform effectively.
The Finest (and Only) Liposomal C + Quercetin on the Market
Tested Non-Soy
Gluten Free
Tested Non-GMO
Non-China Vitamin C
How does LuvByNature Liposomal Vitamin C + Quercetin support optimal health?
Vitamin C is needed to form the protein collagen - which the body uses to make (and repair) skin, tendons, ligaments and blood vessels.* And, because vitamin C is an antioxidant, it can reduce the damage that free radicals, chemicals and pollutants cause to the cells of our body.*
Quercetin, a powerful flavonoid, supports cardiovascular and immune system health.*

What do the experts say about vitamin C and quercetin?

"Man's body was designed to function best with high blood and cellular levels of vitamin C - synthesized as needed by the liver. Due to an inborn error of metabolism, the vast majority of us no longer have the ability to make it, but that does not lessen our need for vitamin C or the benefits derived from it." – Thomas E. Levy, MD, JD

"I hear from patients who say their doctor said, 'If you want to take Vitamin C, go ahead and do it. It won't harm you, and it may do you some good.' More and more physicians are getting convinced about the value of large doses of vitamin C." – Linus Pauling, PhD, 2-time Nobel Prize winner

"Indicators suggest quercetin may help performance in athletes and may help also improve our cognitive performance, or brain alertness. I strongly encourage you to look into quercetin." - Dr. Daniel Johnston, Preventive Medicine, Department of Defense, US Military, Comprehensive Soldier Fitness


Why choose LuvByNature Vitamin C + Quercetin?

• Unique delivery system makes it easy to absorb two of the most important antioxidants on the planet.*
• Delivers 1,000 mg of vitamin C and 100 mg of quercetin per teaspoon.
• Contains 30 servings per bottle.
• Most effective way to absorb vitamin C and quercetin – at the same time.

Directions:

6 milliliters daily (just over one teaspoon) or as directed by your physician. Mix into water or juice for palatability.
Gently shake before using and refrigerate after opening. Use within 45 days of opening.
Serving Size: 6 Milliliters (1.2 teaspoon)
Servings per Bottle: 30
1,000 mg of Vitamin C per Serving
100 mg of Quercetin per Serving

Other ingredients:
Purified water, natural plant flavors, tapioca starch, apple (fruit), organic acacia gum, potassium sorbate.