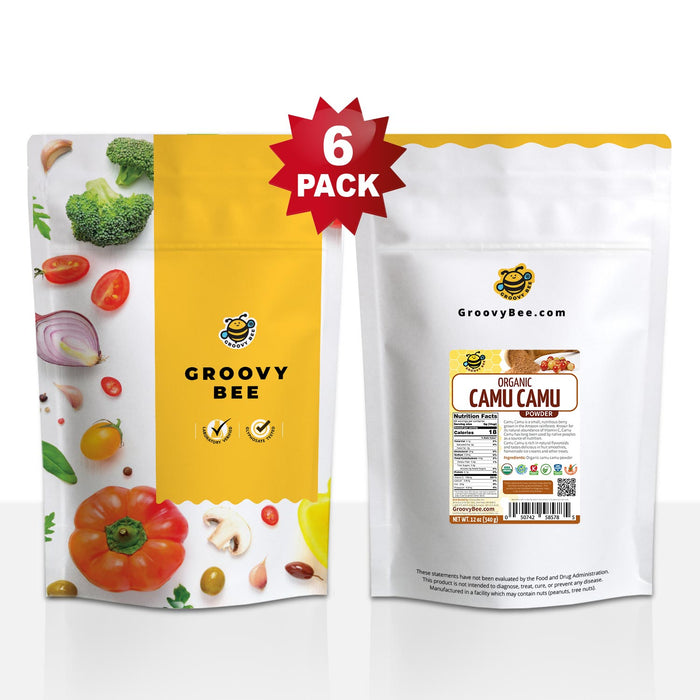 Organic Camu Camu Powder 12oz (340g) (6-Pack)
Original price
$ 263.95 USD
Original price
$ 263.95 USD
-
Original price
$ 263.95 USD
Original price
$ 263.95 USD
Current price
$ 226.95 USD
$ 226.95 USD
-
$ 226.95 USD
Current price
$ 226.95 USD
$ 37.00 USD

(14 %)
Item Number:
050742585785_6com
Groovy Bee® Organic Camu Camu Powder 12oz (340g) (6-Pack)
Considered by many to be one of nature's most potent sources of full-spectrum vitamin C, camu camu berries are also packed with highly bioavailable vitamins, minerals, amino acids and antioxidant flavonoids that can help you maintain optimal health. However, because raw camu camu berries have a particularly sour taste, they are often consumed in the form of a finely ground powder that can be added to drinks and recipes.
Groovy Bee® Organic Camu Camu Powder is a nutrient-dense, whole fruit powder sourced from the fresh berries of the
Myrciaria dubia
plant. It contains no gluten or GMOs and is certified Kosher and organic. Our ultra-clean camu camu powder is also vegan, non-China, non-irradiated and is meticulously lab tested for glyphosate, heavy metals and microbiology.
One of the best natural sources of vitamin C and flavonoids**
As potent antioxidants, vitamin C and flavonoids support healthy immune, cardiovascular and cognitive functions. Since vitamin C is necessary for natural collagen production, it is important for the healthy growth and development of your skin, bones and connective tissues.
By regularly consuming superfoods high in antioxidants like vitamin C and flavonoids, you can protect your body from oxidative stress and maintain optimal health and well-being. Amazingly, when it comes to vitamin C and flavonoid content, camu camu has few rivals.
According to an article published in the journal
Food Research International
, a 100 g serving of camu camu berries contains approximately 1,882 to 2,280 mg of pure vitamin C. This easily exceeds the amount found in other vitamin C-rich fruits, including acai berries, cloudberries and Barbados cherries. Camu camu also contains: 
200x more vitamin C than bananas
60x more vitamin C than oranges
56x more vitamin C than lemons
30x more vitamin C than kiwis
As for flavonoids, according to a study published in the
Journal of Alternative and Complementary Medicine,

 
camu camu berries have great antioxidant potential due to their abundance of flavonoids like anthocyanins and other phenolic compounds. The study also confirmed that the main flavonoids found in camu camu berries are kaempferol and quercetin derivatives.
Nutritional profile of camu camu**
Camu camu contains plenty of beneficial vitamins and minerals. While primarily known for their high vitamin C content, camu camu berries also provide plenty of dietary fiber, calcium, magnesium, protein, phosphorus, iron, manganese, potassium, copper, zinc and B vitamins like niacin, thiamin and riboflavin.
Compared to oranges, gram for gram, camu camu berries contain:

10x more iron 
3x more niacin 
2x more riboflavin
50% more phosphorus 
Additionally, camu camu berries are loaded with carotenoids, such as beta carotene, lutein and zeaxanthin, and amino acids like serine, valine and leucine.
Explore More About Groovy Bee Organic Camu Camu Powder Now!
USDA Organic
Glyphosate Tested
Kosher Certified
Vegan
Non-GMO
Gluten-Free
Laboratory Verified
China-Free
Not irradiated
Not treated with sewer sludge
Ingredients:
Organic Camu Camu Powder
Serving size:
5g (1tsp)
Serving per container:
 68
Product of Peru
STORAGE NOTES: Store away from heat sources, odorous materials and direct sunlight. Keep product protected from outside elements.
**These statements have not been evaluated by the FDA. This product is not intended to treat, cure or diagnose any diseases.
Manufactured in a facility which may contain nuts (peanuts, tree nuts).
Glyphosate-Tested
This product is verified A+++ based on glyphosate analysis standards published at www.GlyphosateTested.com.
This means the product has been tested via triple quad mass spec (LS-MS-MS) and conforms to the glyphosate / AMPA limits required for an A+++ rating as described at www.GlyphosateTested.com.
Low Heavy Metals Verified!
This product is verified A+++ according to the heavy metals standards published at www.LowHeavyMetalsVerified.org
This means the product has been tested via ICP-MS and confirmed to meet the limits for an A+++ rating as described at LowHeavyMetalsVerified.org.

Customer Reviews
I use it for my family's smoothies and they love it. I only trust Health Ranger Store for quality. Thank you for selling the best of the best
A great way to up your vitamin C intake. I prefer getting my vitamins from whole food sources and it tastes great in smoothies. I trust the Health Ranger's products.
Have loved incorporating this into my kids smoothies! Such a wonderful natural form of Vit C. Along with numerous other HR products, my kids are hardly ever sick! I work in critical care & can say I very rarely get sick thanks to these amazing products. Customer for life.
Read More Reviews!