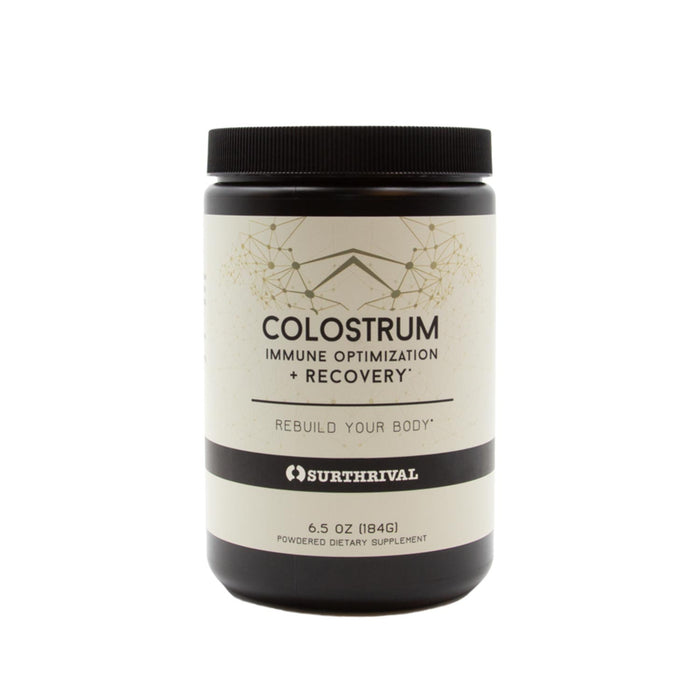 Colostrum (6.5oz, 184g)
Original price
$ 55.00 USD
-
Original price
$ 55.00 USD
Original price
$ 55.00 USD
$ 55.00 USD
-
$ 55.00 USD
Current price
$ 55.00 USD
Item Number:
628586189287
Colostrum (6.5oz, 184g)

COLOSTRUM
is the "immune milk" produced by all mammals for only the first few hours before and after birth. Supercharged with 97 immune factors and 87 growth factors, cow Colostrum is nature's "first food". Its adaptogenic properties have been known to enhance rejuvenation and regeneration while strengthening the immune system, allowing your body to thrive under any circumstance.
Widely known for its potent anti-aging benefits and broad spectrum probiotics in their whole food forms, cow Colostrum supports good digestion and is dense in nutrition, to assist in your health and longevity strategy.
SurThrival Colostrum powder is harvested from healthy cows and is only harvested after the newborn calves get their share.
This is true, third party verified 6 hour Colostrum powder. Surthrival cow colostrum is low temperature spray-dried and contains no unnecessary fillers or additives. 
COLOSTRUM FEATURE ELEMENTS:
Harvested only after the newborn calves get their share.
Third Party Verified True 6-Hour Colostrum.
Nature's most complete whole food.
Tested to be free from herbicides, antibiotics and synthetic hormones.
Processed under 115 Degrees Fahrenheit.
Low Temperature spray dried to preserve bioactivity.
A functional food, supercharged with 97 Immune Factors and 87 known Growth Factors.
Supportive to digestive health and a balanced intestinal environment.
A complete protein containing all essential Amino Acids, Fatty Acids and Glyconutrients.
Colostrinin, also known as Proline-Rich Polypeptides (PRP), is derived from bovine colostrum and have been shown to be effective in the treatment of many health conditions, most notably neuro-degenerative conditions (such as Alzheimer's), viral infections, auto-immune conditions, asthma, and allergic conditions. PRP has been noted for its geno-protective properties, being anti-mutigenic, and reducing the rate of mutation in cells exposed to UVA, UVB, and other oxidative stresses.
While many studies have been performed using isolated PRP's, it is our belief that nutrients are always more effective when used in their whole-food form, as found in nature, and when synergistically supported by the rich matrix of nutrients they are found within.
While Colostrinin represents a near miracle nutrient, it is just one class of nutrients found in bovine colostrum!
Our colostrum is delicious! Rich, creamy flavor and texture perfect in blended drinks, creative confections or as a stand-alone food.
SurThrival Colostrum meets or exceeds the following essential standards:
2300ng/g of IGF-1, 1.9% Immunoglobulins and 24% Proline-Rich Polypeptides. Our colostrum also contains 97 Immune Factors and 87 Growth Factors in its natural, whole form.