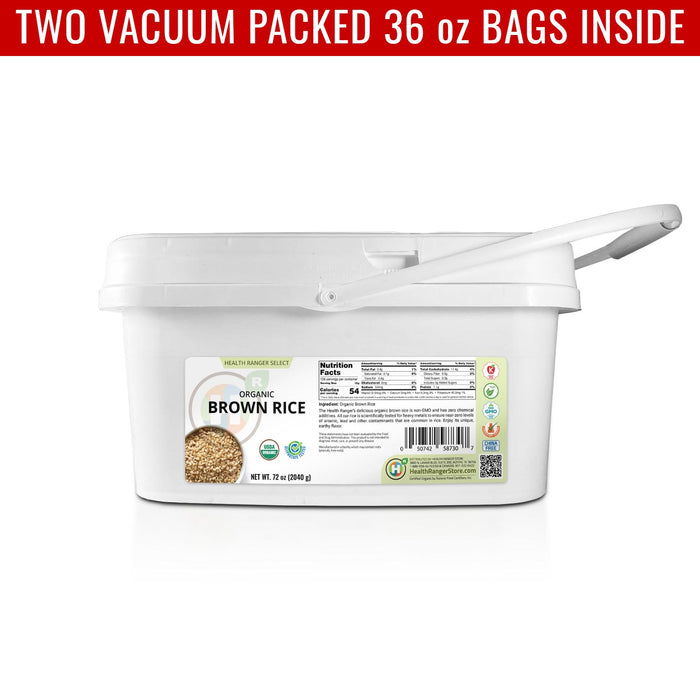 Mini-Bucket Organic Short Grain Brown Rice 72oz (2040g)
Original price
$ 63.95 USD
Original price
$ 63.95 USD
-
Original price
$ 63.95 USD
Original price
$ 63.95 USD
Current price
$ 49.95 USD
$ 49.95 USD
-
$ 49.95 USD
Current price
$ 49.95 USD
Sold out
Item Number:
050742587307
Health Ranger Select Mini-Bucket Organic Short Grain Brown Rice 72oz (2040g)
Also known as whole grain rice, organic brown rice comes from the 
Oryza sativa
 plant. A study published in the 
American-Eurasian Journal of Agronomy

 
describes brown rice as one of the healthiest and most nutritious rice varieties in the world.
Health Ranger Select Organic Brown Rice is grown under strict organic standards by our trusted suppliers. It contains zero chemical additives and has not undergone any processing, so you'll be able to get the full nutritional benefits of organic brown rice.
Our ultra-clean, short-grain brown rice is non-GMO, non-China and certified Kosher and organic. It is also extensively lab tested for glyphosate, heavy metals and microbiology.
Health benefits of organic brown rice**Supports healthy cardiovascular function –

 
Brown rice is loaded with heart-healthy nutrients, such as potassium, selenium and dietary fiber. As a low-glycemic food that contains gamma-aminobutyric acid (GABA) and plant sterols, brown rice can also help you maintain healthy blood sugar and cholesterol levels that are already within the normal range.   

Supports healthy immune function
–

 
Brown rice is rich in a number of immune-supporting nutrients, such as selenium, iron and manganese. It also contains powerful phenolic acids and antioxidants that promote your body's natural immune defenses and protect healthy cells from oxidative stress.
Supports healthy cognitive function
–

 
According to a study that appeared in the journal 
BMC Complementary and Alternative Medicine
, consuming brown rice can help support optimal cognitive function. This is likely due to brown rice's high content of manganese, magnesium, vitamin E, B-vitamins and other essential nutrients that are important for healthy brain function.
Supports healthy skin
 – Brown rice is packed with powerful antioxidants such as flavonoids, phenolic acids, tocotrienols, tocopherols,
anthocyanins, proanthocyanins and ferulic acid. These antioxidants can help protect your skin from oxidative stress and support its healthy functions.
Supports healthy digestive function

 
– Brown rice is naturally abundant in dietary fiber, which supports a healthy gut flora and digestion, and promotes regular bowel movement. Brown rice is also rich in manganese, which promotes optimal nutrient absorption and supports the healthy production of digestive enzymes that are already within the normal range.
Supports reasonable weight management plans

 
– Brown rice is a rich source of dietary fiber, which can help curb your appetite by promoting satiety. This makes brown rice an ideal tool for achieving sensible weight management goals, especially when accompanied by a healthy diet and regular exercise. Brown rice also contains manganese, which promotes optimal metabolism.   
Supports healthy nervous function

 
– Brown rice contains plenty of vitamins and minerals that are crucial for maintaining the healthy functions of your nervous system. These nutrients include magnesium, manganese and B vitamins. Brown rice is also packed with antioxidants that can help protect cells in the nervous system from free radical damage.
Supports healthy energy levels

 
– As a great source of complex carbohydrates, brown rice can provide you with more lasting energy than foods that contain simple carbs. A study published in the 
American Journal of Clinical Nutrition
 also reveals that brown rice contains high levels of fiber, protein, manganese, thiamin and other nutrients that support your body's natural energy production.
Brown rice is an excellent survival food**
As a staple food in many countries, brown rice is an excellent source of dietary fiber, protein and complex carbohydrates, as well as essential nutrients like manganese, calcium, iron, magnesium, copper, potassium, zinc, phosphorus, selenium and vitamins B1, B3, B6, E and K. This means that eating brown rice is a great way to get most of the vitamins and minerals that you need, especially in a survival scenario.
To cook brown rice, you only need water, a pot and a source of heat. This makes it incredibly easy to prepare, even with limited resources. Brown rice also goes well with other superfoods in your survival pantry and makes an excellent base for meals.
If you want to maximize the shelf life of brown rice, store it in an airtight container and place it in a cool, dark and dry area. It can last up to six months when stored this way. Brown rice can last 12 to 16 months when stored in a refrigerator and up to two years when stored in a freezer.   
Brown rice deserves a place in your survival stockpile, which is why we've packaged our Health Ranger Select Organic Brown Rice in durable and convenient 72oz mini-buckets for long-term storage.
Learn more about Organic Brown Rice!
USDA Organic
Glyphosate Tested
Kosher certified
Vegan
Non-GMO
Laboratory Verified
Non-China
Ingredients:
Organic Brown Rice
Serving size: 15g 

Serving per container:
 136
Product of USA
Storage suggestions:
 Store in a cool, dry place at temperatures below 55°F  with less than 65% humidity. Keep product away from direct heat and moisture.
**These statements have not been evaluated by the FDA. This product is not intended to treat, cure or diagnose any diseases.
Manufactured in a facility which may contain nuts (peanuts, tree nuts).
Glyphosate-Tested
This product is verified A+++ based on glyphosate analysis standards published at www.GlyphosateTested.com.
This means the product has been tested via triple quad mass spec (LS-MS-MS) and conforms to the glyphosate / AMPA limits required for an A+++ rating as described at www.GlyphosateTested.com.
Low Heavy Metals Verified!
This product is verified A+++ according to the heavy metals standards published at 
www.LowHeavyMetalsVerified.org
This means the product has been tested via ICP-MS and confirmed to meet the limits for an A+++ rating as described at 
LowHeavyMetalsVerified.org
.
Customer Reviews
This was the best brown rice I have ever eaten. I had forgotten how good brown rice could taste. Came in handy when a medical crisis hit my life. Let food be your medicine. Loved it with health ranger's black beans!
It's not easy finding quality foods and trusted companies these days. With the foods and supplements from the health ranger store I feel my family will survive whatever they throw at us. Thank you to all the folks involved in this mission.
Read More Reviews!