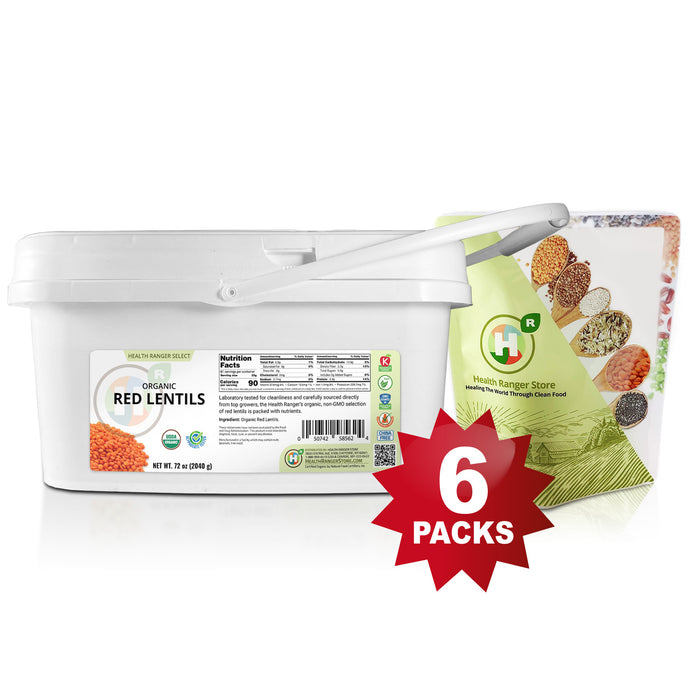 Mini Bucket - Organic Red Lentils 72 oz (2040 g)
Original price
$ 86.95 USD
Original price
$ 86.95 USD
-
Original price
$ 86.95 USD
Original price
$ 86.95 USD
Current price
$ 69.95 USD
$ 69.95 USD
-
$ 69.95 USD
Current price
$ 69.95 USD
Sold out
Item Number:
050742585624
Mini Bucket - Organic Red Lentils 72 oz (2040 g)
Certified organic red-split lentils are the perfect low-cost, high-nutrition solution for healthy living and emergency food prepping. These small round lentils are bursting with important nutrients like fiber, protein, folate and magnesium. Unlike other legumes, there's no need to pre-soak them, making them easy to prepare quickly during survival situations. They only need between 12 to 30 minutes to cook all the way through. Two servings of these sweet and nutty red-split lentils will provide you with 332 calories (166 per serving).
 
Our air-drying process ensures that these lentils retain their potent nutritional value. The Health Ranger Mini-Bucket can keep them on your shelf for long periods of time without the need for refrigeration or preservatives, making them perfect for food preparedness.
 
The red lentils of the Health Ranger Select Organic Red Lentils Mini Bucket are carefully sourced from Turkey, and each batch has been lab verified for both quality and purity. They are vegan, non-GMO, non-China and are certified organic and Kosher. They have also been laboratory tested for glyphosate, heavy metals and microbiology.

Why choose Health Ranger Select Organic Red Lentils Mini Bucket?**


Rich source of important nutrients such as fiber, iron, magnesium, manganese, phosphorus, copper, zinc and folate


Contains all nine essential amino acids


Contains the flavonoids quercetin and kaempferol, which are powerful antioxidants that can protect your body against free radical damage


Has a very low glycemic index, making it ideal for supporting healthy blood sugar levels that are already within their normal range


Helps maintain a healthy metabolism and supports sensible weight management programs when accompanied by a healthy diet and proper exercise
Explore More About Health Ranger Select Organic Mini Buckets
USDA Organic
Kosher-Certified

Glyphosate-Tested
Vegan
Non-GMO
Laboratory-Verified
China-Free
Vacuum-Sealed

Ingredients: Organic Red Lentils

Serving size: 25g
Serving per container: 81

Country of Origin: Turkey


#10

 Cans, Mini Buckets, and Health Ranger Buckets Return Policy
Due to the nature of our storage foods, all #10 cans, Mini-Buckets, and Ranger Buckets Sets will be subject to a 20% restock fee. All items must be shipped back within 30 days and must be unopened (including external seals in tact), in their original packaging and resalable condition.  Once received and inspected, we will refund your method of payment, less original shipping/delivery charges. If you are past the 30 day mark on your purchase, we will not accept the items back nor offer you a credit or refund.
Glyphosate-Tested


This product is verified A+++ based on glyphosate analysis standards published at www.GlyphosateTested.com.

This means the product has been tested via triple quad mass spec (LS-MS-MS) and conforms to the glyphosate / AMPA limits required for an A+++ rating as described at www.GlyphosateTested.com.
Low Heavy Metals Verified!


This product is verified A+++ according to the heavy metals standards published at www.LowHeavyMetalsVerified.org 

This means the product has been tested via ICP-MS and confirmed to meet the limits for an A+++ rating as described at LowHeavyMetalsVerified.org.