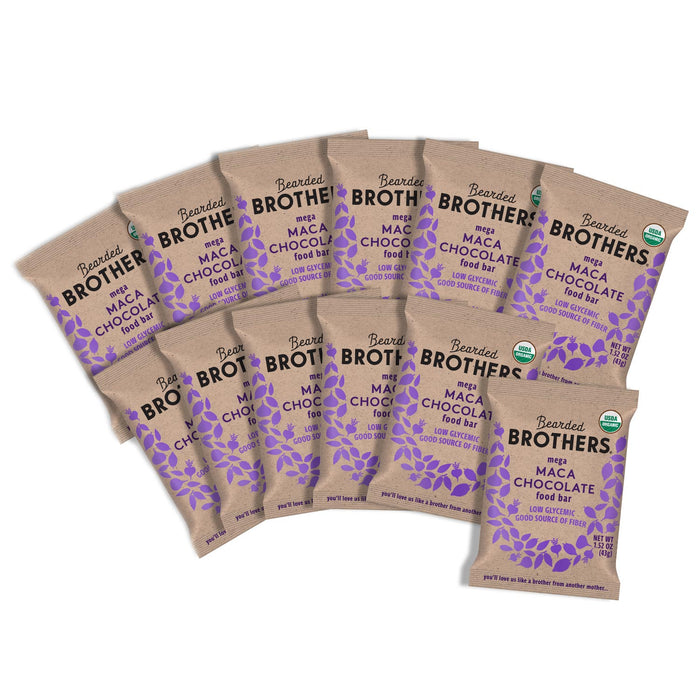 Mega Maca Chocolate Energy Bars (12 Pack)
Original price
$ 33.48 USD
-
Original price
$ 33.48 USD
Original price
$ 33.48 USD
$ 33.48 USD
-
$ 33.48 USD
Current price
$ 33.48 USD
Sold out
Item Number:
854030005234
Mega Maca Chocolate Energy Bars (12 Pack)
Bearded Brothers only uses organic, all natural ingredients with no artificial preservatives. To ensure freshness and best experience, we recommend consuming shortly after receiving. If planning to store for a longer period, we recommend storing in a dry, cool place, perhaps refrigerating, to further maintain shelf life and freshness.
There's nothing better than a sweet treat that treats you sweet! Made with delicious Mexican cocoa, raw cacao nibs and maca powder, this bar packs a punch of flavor and burst of energy!
Gluten​ ​&​ ​Soy​ ​Free 
Vegan 
Low​ ​Glycemic 
USDA​ ​Organic 
Non-GMO​ ​Project​ ​Verified 
Paleo
Ingredients: Organic Dates, Organic Almonds, Organic Cashews, Organic Maca Powder, Organic Cacao Nibs, Mexican Cocoa* (Cocoa, Red Ape Cinnamon, Vanilla), Organic Coconut Sugar, Organic Chia Seeds, Sea Salt
*Organic Ingredient
Nutrition Facts: Serv. Size: 1 bar / 43g, Calories 180, Fat Calories 75, Total Fat 9g (14% DV), Saturated Fat 2g (8% DV), Trans Fat 0g, Cholesterol 0mg (0% DV), Sodium 14mg (1% DV), Total Carb. 22g (7% DV), Dietary Fiber 4g (16% DV), Sugars 14g, Protein 5g, Vitamin A (0% DV), Vitamin C (1% DV), Calcium (10% DV), Iron (7% DV).
Percent Daily Values are based on a 2,000 calorie diet. Your daily values may be higher or lower depending on your calorie needs.
Individual Bar Weight: 1.5 oz