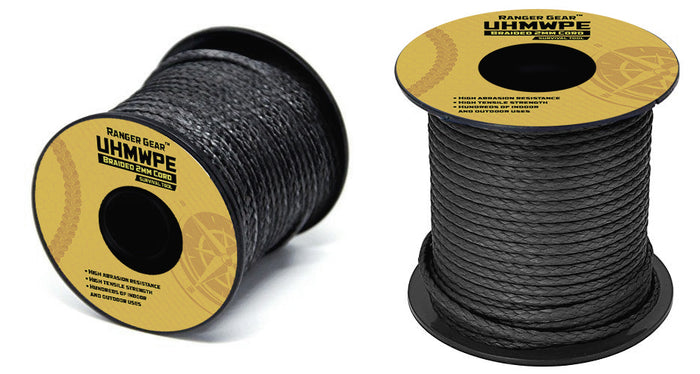 Ranger Gear UHMWPE Braided Survival Cord 2.0mm (100 ft - 300 lb)
Original price
$ 24.95 USD
Original price
$ 24.95 USD
-
Original price
$ 24.95 USD
Original price
$ 24.95 USD
Current price
$ 21.95 USD
$ 21.95 USD
-
$ 21.95 USD
Current price
$ 21.95 USD
Sold out
Item Number:
050742587932
Ranger Gear UHMWPE Braided Survival Cord 2.0mm (100 ft - 300 lb)
Super Strong Durable Wear Resistance
Sturdy and reliable cordage is a must-have preparedness item for any bug-out-bag, emergency kit or survival cache. For more heavy duty applications or carrying heavier loads, our Ranger Gear UHMWPE Braided Survival Cord 2.0mm is the recommended cordage for you. Boasting a a multitude of survival uses, this durable cordage is so versatile, you can even use it for normal every day applications.
Ultra High Molecular Weight Polyethylene (UHMWPE) cordage has a multitude of survival uses. In terms of raw strength per mm of thickness, UHMWPE is far stronger than 550 paracord, nylon and even Kevlar cordage. It's also buoyant (floats on water) and is excellent at resisting abrasion.
Offered in 100 ft. lengths, this UHMWPE cordage is the top of the line in survival cordage, and it is made by tightly braiding individual fibers into a super strong finished cord.
Survival uses for cordage**

Super strong durable wear resistance cordage is one of the most versatile survival items you can have in your preparedness kit. Here are a few ways you can use this incredibly versatile survival cord.
Our Ranger Gear UHMWPE Braided Survival Cord 2.0mm is capable of carrying up to 300 lbs, which makes it suitable more heavy duty applications, such as rigging a pulley system to lift heavy gear and other items off the ground. Use it to secure stakes and tent poles, create snares and booby traps for hunting larger game or secure baggage and other objects to the top of your car. Since it is buoyant, you can use this thicker cordage to tie together rafts or tie up small boats and canoes to a dock. With some time and a little weaving, you can turn it into a reliable fishing net. If you have some sturdy fabric, you can even make a DIY hammock. For first aid purposes, you can use it to create an emergency stretcher or rescue people who are trapped in a lower area.
High abrasion resistance 
High tensile strength 
Hundreds of indoor and outdoor uses
Material:
 UHMWPE
MAX Strength and weight
 (lb and g/m)
2.0 mm

 | 300

 lb - 100ft | 2.1 g/m
Braid construction |

 

12 strand braided

Elongation at workload |

:

<4%
Melting point |

 

145℃

Safe working temperature |

 

below 60℃

**These statements have not been evaluated by the FDA. This product is not intended to treat, cure or diagnose any diseases.