Description
Note: Our Quality Assurance Team is currently screening for a clean lot of this item. At this time we have no estimated date of availability and will post an update as soon as we know. We do appreciate your business with us and your patience while we complete this process.                         
**For 48 contiguous United States and Canada Shipping Only**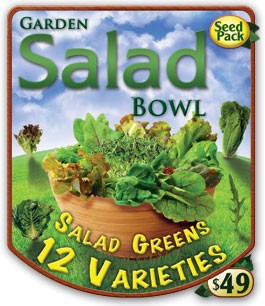 The Heirloom Organics Garden Salad Pack
is so popular because lettuce and other salad greens can be grown indoors (year-round) or outdoors and in all light conditions including no direct sunlight. The Salad Pack of lettuce and salad greens provides the quickest growing, highly nutritional varieties you can find, all 100% non-hybrid and non-GMO. 
From seed to your table in less than a month, indoors or out. Make sure your family has the Garden Salad Bowl Pack for your health and well-being. For a bigger sprouting seeds pack, try the Sprouting Seeds Pack. For all our specialty packs look here, where you can see our new Tea Garden Pack , Home and Professional Medicine Packs , Home and Professional Kitchen Herb Packs, Fruit, Chili and Tomato Packs and we even have a Livestock Pack. 
Arugula: Roquette
Arugula is an aromatic, peppery salad green. It is also known as roquette, rocket, rugula and rucola, and is very popular in Italian cuisine. It grows wild in Asia and all over the entire Mediterranean --- and has been known to be cultivated and enjoyed in places as exotic as the north of Sudan. In Roman times arugula was grown for both its leaves and the seed. The seed was used for flavoring oils.


Cress: Upland
Cress is a biennial herb, native to southwestern Europe, but is also cultivated in America. It is also known as American cress, bank cress, Bermuda cress, early yellowrocket, and early wintercress. Upland cress is considered a satisfactory substitute for watercress. It can be used in sandwiches or salads, or cooked like spinach, or used in soup. It can be grown easily in any garden. Upland cress has a sharp, peppery flavor. It has heart-shaped leaves that have a radish-like flavor. It has been cultivated in Europe since the 17th century.


Chicory: All Seasons San Pasquale
Chicory has been cultivated for over 1000 years, but it is still very wild-looking. It is a native of Europe but it is as common as a weed in the United States. It is a hardy vegetable that is used in three basic forms. The roots of chicory can be dried, roasted, and prepared as a substitute for coffee. The greens, which are slightly bitter and resemble dandelion greens, are grown and used as potherbs (leaf vegetables). Chicory is also known as Italian dandelion.


Chicory: Verona Red Radicchio
Radicchio is a leaf chicory. It is sometimes known as Italian chicory. It is grown as a leaf vegetable and usually has white-veined red leaves. The taste can be described as bitter and spicy. The taste is more mellow when it has been roasted or grilled. Modern cultivation of the plant began in Italy during the 15th century. It is typically eaten grilled in olive oil, or mixed with pasta dishes.


Corn Salad: Dutch
Dutch corn salad is also known as Lamb's Lettuce. It is a cold tolerant plant. It is one of the tenderest of all greens. The flavor can be described as mild and nutty. Dutch corn salad is an excellent addition to salads and garnishes. Dutch corn salad is full of nutrients, and contains three times as much vitamin C as lettuce. It is best if gathered before flowers appear on the plant.


Endive: Green Curled Ruffec
Endive is a half-hardy biennial that is grown as an annual. It has a large rosette of toothed, curled, or wavy leaves that are used in salads as a substitute for lettuce.



Lettuce: Buttercrunch
Buttercrunch lettuce is a heat-tolerant, Bibb-type of lettuce. It has rich green leaves, sometimes tinged with red. The leaves form a lovely rosette of dark green leaves with a white-yellow heart. Buttercrunch lettuce is a good source of vitamin A and phytonutrients. Its leaves are buttery, chewy, crisp and sweet, and make a wonderful addition to salads.


Lettuce: Oakleaf
The flavor of Oakleaf is distinctive. It has a slight mineral component combined with nuttiness, and rather than the tang of Romaine, there's the suggestion of white wine. The leaves are thin and tender. If you use it in sandwiches, they should be eaten shortly after preparation, as the lettuce will wilt otherwise. If you use it in salad, you probably want to use a thin dressing, rather than burden the leaves with a heavy cream. The lettuce's flavor will go well with the usual salad accessories (tomato, cucumber, scallions) and is a good complement for almonds or walnuts, too. The color and shape of Oakleaf make it useful as a garnish or as a base for presenting various other foods, but it would be a shame to leave the leaves uneaten.


Lettuce: Red Salad Bowl
Add a splash of color to salads! Reddish-bronze leaves are long, deeply lobed and have a delicate flavor and texture. Slow bolting variety allows for a long harvesting period.


Lettuce: Romaine Parris Island
Named for Parris Island off the coast of South Carolina, this old favorite Romaine deserves a try by any lettuce lover. 'Crunchy leaves', 'creamy white heart', and 'vigorous' are just a few of the words that describe this variety.


Mesclun Mix
Mesclun lettuce is also known as wild or baby lettuce. Mesclun isn't a single variety of lettuce. Rather, it's a combination of several varieties of loose leaf lettuces, all in one seed packet. It originally came from European nations specifically the Italian and French regions. Today it's gaining popularity all around the world. The dictionary definition states it can also contain a variety of herbs and even edible flowering plants. Gardeners love this loose leaf mixture, as it spells "variety" in the salad bowl. Mesclun lovers savor the varying colors, textures, and tastes. Grow mesclun lettuce for a delicious addition to any salad.


Parsley: Italian Giant
Italian Giant is a variety of flat leaf parsley. It is an herb that typically grows as a biennial. It is easy to grow, and is great for beginner gardeners. It is an edible herb that can be preserved by either drying or freezing it. Parsley contains flavonoid, antioxidants, lycopene, and vitamins C and K. Raw leaflets can be added to salads, and is the preferred culinary variety of parsley because of its great flavor.

* Due to ongoing seed shortages, seed varieties subject to change without notice. Replacements will be as close as possible and will be included in your order documentation.
Non-Hybrid or Open-Pollinated seeds allow the gardener to collect seeds from a crop for future planting. Hybrid seeds do not. All Heirloom Organics Seed Packs are 100% Non-Hybrid AND Non-GMO (genetically modified) and specially sealed for long term storage. Use now AND save for emergency. All from the same hermetically sealed pack!
Seed Count:
| | | |
| --- | --- | --- |
| Salad Pack | | |
| | | |
| Variety | Oz | Seed Count |
| | | |
| Arugula: Roquette | 0.0625 | 1063 |
| Cress: Upland | 0.0625 | 1125 |
| Chicory: All Seasons San Pasquale | 0.0625 | 1563 |
| Chicory: Verona Red Radicchio | 0.0625 | 1563 |
| Corn Salad: Dutch | 0.0625 | 1250 |
| Endive: Green Curled Ruffec | 0.0625 | 1563 |
| Lettuce: Buttercrunch | 0.0625 | 1400 |
| Lettuce: Mesculin Mix | 0.0625 | 1400 |
| Lettuce: Oakleaf Red | 0.0625 | 1400 |
| Lettuce: Paris White Cos | 0.0625 | 1400 |
| Lettuce: Red Salad Bowl | 0.0625 | 1400 |
| Parsley: Italian Giant | 0.0625 | 1133 |
| | | |
| | 0.75 | 16258 |
FREQUENTLY ASKED QUESTIONS
Q: How long will my seeds last?
A: Shelf life varies depending on the seed, but it ranges from 1-10 years dependent on the type of seed. Herbs and Teas have a shelf life of 2-3 years, vegetables and fruits range from 5-7 years, and grains range from 7-10 years. Store all seeds in a cool, dry, and dark location to maximize life. Do not freeze and do not expose to heat.

Q: Why should I use non-hybrid (open pollinated) rather than hybrid seeds?
A:
Better Nutrition – Commercial Produce lacks nutrition, research has shown.
Sustainable Gardening - Saving Seeds is only possible with open-pollinated seeds
Economic Security – In recessions and depressions, FOOD IS ECONOMIC SECURITY
Food Supply Independence – If food supplies are challenged, home gardening is freedom.
Crop Diversity – Participate in saving the original strains from extinction
Investment Hedge – Seeds are an excellent alternative investment to paper money, stocks and securities, even gold if the markets were to dive long-term.
Q: Why should I buy Heirloom Organics Non-Hybrid Seed Packs?
A:
Best price – Heirloom Organics Seed Pack are wholesale or bulk amounts of seed sold in complete, integrated packs.
Largest Amount – Our Seed Packs are HUGE! From the Vault to the Farm Pack, we provide bulk quantities in our packs.
Long-Term Storage Prepared – We use the VAULTtm method to extend seed life up to twice.
Use now AND store for later – Our Packs are double sealed so you can use seeds this year and store the rest without harming the extended shelf-life.
Q: Can I open my seeds, use some and re-seal them for storage?
A: Yes. They are double sealed so you can reseal them without harming the shelf life.
Q: Can I buy individual packets?
A: No, we ONLY SELL COMPLETE SETS. This is the only way we can provide wholesale amounts AND process them for long-term storage. Sorry, No individual Packets and no replacements.
Q: Should I freeze my seeds?
A: Only if you plan to keep them there. Freezing DOES help extend seed life as long as they are not removed often.
Q: How Much will shipping be?
A: UPS determines the shipping amount. The shipping cost will be added to your order once you place it.
Q: Do you ship to Europe/Asia?
A: We only ship to U.S. and Canada currently. Agricultural restrictions between countries make it very difficult to ship seeds.
Q: You DO ship to Canada?
A: Yes we do, however, Canada restricts some grains like wheat, barley and rye. We must provide replacements on some packs and some we cannot ship at all. Please see the list.
Q: What are Heirloom seeds?
A: Heirloom seeds are simply the oldest strains of open pollinated seeds. Varieties that were commonly grown during early periods of history. No one really agrees at what age a seed becomes 'heirloom'. Some say fifty years, others disagree. It is not necessary to have "heirloom" seeds for a survival or preparedness garden. Open pollinated seeds are what is required.
Q: What about variety replacements?
A: Due to ongoing seed shortages, seed varieties subject to change without notice. Replacements will be as close as possible and will be included in your order documentation.
Q: Do I get instructions or assistance?
A: Yes! When your product arrives, you will have access to the largest Organic Growing Guide on the internet for free, 24/7 information.