Description
                        **For US and Canada Shipping Only**
The Heirloom Organics Kitchen Herb Pack
The Heirloom Organics Kitchen Herb Pack 
is our most popular specialty pack. The most common, easy-to-grow 100% non-hybrid varieties for your kitchen. Every sustainable kitchen garden needs a good supply of culinary herbs for flavoring and spicing as well as preserving the foods you grow. The Heirloom Organics Non-Hybrid Kitchen Herb Pack brings it all together in one convenient selection for culinary and gardening pleasure. 
Italian Large Leaf Basil
Warm weather annual develops into an attractive, bushy plant. Grow in containers or flower borders. Used in pesto, tomato dishes, soups, fish and poultry dishes, fresh or as quick-frozen leaves. Full or partial sun.

Chives
Chives taste like sweet, mild onions. They complement most any dish except sweet ones. The flowers can also be eaten and look attractive when tossed with salads or used as a garnish. Chives have been added to foods for nearly 5,000 years!

Cilantro/Coriander
Versatile spice indeed! Use leaves or seeds. Popular, easy to grow annual. Has a pleasantly aromatic and flavorful seed for use in potpourris and to flavor pastry, beans, stew, sausage, and fish. Distinctively flavored leaves are used in Latin and Southeast Asian dishes. Best with fowl, meats, and spicy dishes.

Bouquet Dill
Light-green, feathery leaves and small, greenish-white flowers. Leaves used fresh to flavor salads, dips, vinegars and meat, fish and vegetable dishes. Seeds are collected and dried for use in pickle recipes. Self seeding. Full sun.

Florence Fennel
A very versatile herb. Its leaves, stalks, seeds, roots and plant base or 'apple' are all used. It is grown for its delicious tender 'apple' which can be eaten raw or blanched along with its stalk when young. Its leaves and seeds have an anise like flavor.

Sweet Marjoram
Spicy and aromatic perennial, usually grown as an annual. Has square, branching stems and sometimes grows to the size of a small shrub. Likes to be sheltered in a warm, sunny spot. Protect from frost, and water sparingly.

Italian Oregano
An herb that grows wild in central and southern Italy and the rest of the Mediterranean countries. Has a much stronger flavor dry than fresh but just as good. However use less dry oregano, as the flavor is more concentrated. Used on pizza and in sauces as well as vegetables. Very popular in Sicily where it is often added to preserved olives. Easily grown in a pot.

Parsley
Strong, vigorous, upright growing plant with long, attractive stems for bunching. Leaves are heavily curled, dark green and maintain their color well into the season. Has good grow back for several harvests.

Rosemary
Fragrant evergreen herb used with meats and stews. An easy to grow perennial that enhances everything from eggs to bread to vegetables and meats. This dependable and versatile herb needs little care or water to thrive. Since it is attractive and tolerates some degree of drought is also used in landscaping It is considered easy to grow for beginner gardeners, and is pest resistant. Rosemary is extremely high in iron, calcium and Vitamin B6.

Broadleaf Sage
Shrubby evergreen perennial with broad, velvety, dusty green leaves which have a woodsy camphor-like taste and tempting aroma. Traditionally used as a poultry stuffing and to season meat. Perennial.

Tarragon
A hardy and vigorous plant, spreading at the roots and growing over a meter tall. Russian Tarragon actually prefers poor soils and happily tolerates drought and neglect. It is not as strongly aromatic and flavorsome as its French cousin, but it produces many more leaves from early spring onwards that are mild and good in salads and cooked food. Tasting somewhat like Anise, Tarragon is mildly sweet and adds excellent flavor to sauces, soups, vegetables and even desserts. The young stems in early spring can be cooked as an asparagus substitute. Grow indoors from seed and plant out in the summer. Spreading plant can be divided easily.

Thyme
This indispensable kitchen herb is a small bushy perennial shrub that grows up to 15" tall and produces multiple stems with tiny silver-green aromatic leaves and white to pale purple flowers. The whole plant (leaves, stems and flowering tops) is used fresh or dried to flavor a wide variety of dishes.
*Due to ongoing seed shortages, seed varieties subject to change without notice. Replacements will be as close as possible and will be included in your order documentation.



Non-Hybrid or Open-Pollinated seeds allow the gardener to collect seeds from a crop for future planting. Hybrid seeds do not. All Heirloom Organics Seed Packs are 100% Non-Hybrid AND Non-GMO (genetically modified) and specially sealed for long term storage. Use now AND save for emergency. All from the same hermetically sealed pack!
Seed Count:
| | | |
| --- | --- | --- |
| Family Kitchen Herbs | | |
| | | |
| Variety | g | Seed Count |
| | | |
| Basil: Italian Large Leaf | 0.2 | 257 |
| Chives: Allium Schoeno | 0.3 | 85 |
| Coriander: Cilantro | 0.5 | 30 |
| Dill: Bouquet | 0.5 | 48 |
| Fennel: Florence | 0.3 | 42 |
| Marjoram: Sweet | 0.2 | 93 |
| Oregano | 0.05 | 466 |
| Parsley: Plain Leaf | 0.5 | 320 |
| Rosemary | 0.05 | 44 |
| Sage: Broadleaf | 0.2 | 127 |
| Tarragon: Russian | 0.05 | 296 |
| Thyme | 0.1 | 326 |
| | | |
| | 2.95 | 2,134 |
SUPER-NUTRIENT: Mixed Baby Greens Pack
Designed specifically for the Natural News Supply Source Mini-Farm Grow-Box.
This Mini-Farm seed pack is loaded with nutrients available to your family in as little as 2 weeks, indoors or out!
Baby Greens supply many times the nutrient content of fully grown leafy greens and you can harvest them in
14 days!
Scientists have verified 4-5 times the available Vitamin C, E and Beta Carotene in baby greens compared with fully grown greens.
The Heirloom Organics SUPER-NUTRIENT Baby Greens Pack is the perfect companion pack for the Mini-Farm Brow-Box. It has 6 varieties of highly-nutritious vegetables for edible greens and can be grown in your window, year-round or outside in direct sunlight.
Contains: Mixed, 3 oz. Total: Beet Greens, Collard Greens, Lettuce, Mustard Greens, Turnip Greens, Radish Greens. About 1/2 oz of each. The natural seed life varies from 1 to 4 years for highest germination rate. Now as far as sheer numbers the count is approximately 27,570 seeds. They are very small and the number of seeds can vary in an ounce because of the size so there could be between 600-1200 seeds in an ounce of lettuce. How long they last depends on how big your family is and how often you plant.
The SUPER-NUTRIENT Baby Greens Pack is a versatile companion to the Food Rising Mini-Farm Grow Systems providing food production at all stages of growth. You can harvest in 1-2 weeks as micro-greens, 2-6 weeks as baby greens or 6-12 weeks as fully mature greens. You can easily have 3 or more Mini-Farm Grow Systems at different stages of growth for constant harvest, indoors year-round or outside in full sun.
Seed types:
LETTUCE -White rice like seeds.
RADISH - Pale beige egg shaped seeds.
COLLARDS - Black spheres seeds.
BEET - Yellow/brown kernel seeds.
MUSTARD - Dark reddish seeds
TURNIP - Dark kernel seeds.
CHOOSING YOUR METHOD
First you want to decide what you want to grow, micro-greens, baby greens, fully-grown greens, or all 3! This will determine how many seeds you want to plant per container. If you choose to grow all 3, you can either plant in 3 separate grow-systems or plant for 3 stages of harvest in 1 grow system.
PLANTING FOR MICRO-GREENS
If you are planting exclusively to grow micro-greens, with a 2-4 week harvest cycle, you will use the highest number seeds per square inch of soil space. Since micro-greens are harvested very small, crowding them is desired. If you are growing exclusively for micro-greens plant your seeds almost touching each other in an even layer.
When your micro-greens are 1-2 weeks old they are ready for harvest. Simply take a pair of scissors and cut patches to use in salads or other dishes. Don't cut all the way down to the base because there are new sprouts ready to follow the ones you are cutting and you don't want to cut their shoots! Continue allowing new shoots to come up and harvest when ready. Your micro-greens patches will last for many cuttings.
When planting for baby greens (2-6 week harvest cycle) you will want to use less seeds per square inch than with micro-greens. Leave about 2 seeds width between seeds in your planting medium. So imagine you put down 1 seed, then count 2 widths of that seed before you put down another seed. So the frequency of seeds is about half that of micro-greens.
In about 2-3 weeks your baby greens will be ready for harvest. Just use scissors and be careful not to cut into the greens you aren't harvesting! DO cut all the way to the bottom of the baby green, making sure not to cut any new shoots coming up.
PLANTING FOR FULLY-GROWN GREENS
If you are planting exclusively for fully-grown greens (6-12 week harvest cycle) you will want to plant only 4-8 seeds per container, depending on the container size. You will want the seeds about half an inch apart or more, depending on how large you want them to be when you harvest.
HARVESTING FULLY GROWN GREENS
Between 6-12 weeks your fully-grown greens will be ready for harvest. Use scissors or pruning shears and trim at the base of the stem. Leaving any stem sends energy to the partial stem instead of growing leaves new shoots. Harvest until your greens are used and plant again!
PLANTING FOR 3 STAGES OF HARVEST
You might decide to plant for 3 stages of harvest in 1 grow-system. If you choose to do this, plant seeds closely together as instructed for micro-greens.
In 1-2 weeks you can start harvesting micro-greens. Use scissors and be careful not to cut new shoots by cutting half way up the stem. You can harvest the entire patch this way, leaving the "undergrowth" for baby greens. Wait another 1-3 weeks for your newer shoots to turn into baby greens and begin harvesting by carefully cutting at the base of each green. Leave every 3rd plant to grow into fully-grown greens in another few weeks! Harvest as needed.
If you are using your Mini-Farm Grow System indoors you will want to find a place close to a window with as much direct sunlight as possible This becomes more important in later stages of harvest. Micro-greens require a little sun, baby greens more sun, and fully-grown greens the most sun. Depending on the amount of sun you have available, you may need to add as much as 20% to your time-to-harvest growing indoors.
GROWING OUTDOORS
If you are growing exclusively outside, with good access to sun, you might shorten your time-to-harvest by as much as 20% from the instructions given. Baby greens and fully-grown greens benefit a great deal from direct sunlight, producing chlorophyll in greater quantities, more rapidly. If you are in a change of seasons and moving your Grow Systems outside during the day, be sure not to leave them out at night in danger of low temperatures. This can dramatically slow the growth of the delicate young seedlings or even kill them.
GETTING THE MOST OUT OF YOUR GROW SYSTEM
Planning is the key to harvesting the most food from your grow system. Work backwards from what you want your family to be eating and plan accordingly. Whether you are supplementing other home-grown foods, store-bought foods or even stored foods, the Mini-Farm Grow System with the SUPER-NUTRIENT Baby Greens Pack can supply most of the fresh-food nutrients your family needs to be healthy and happy. For an average family of four, having 4-8 grow systems running at various stages of growth provides continual harvest of high-nutrient greens for your table.
Heirloom Organics Tomato Pack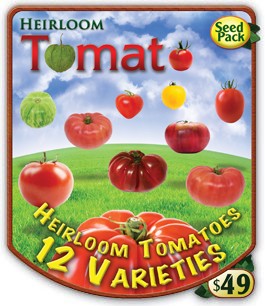 There are a great many (around 7500) tomato varieties grown for various purposes. Heirloom tomatoes are becoming increasingly popular, particularly among home gardeners and organic producers, since they tend to produce more interesting and flavorful crops. The Heirloom Organics Heirloom Tomato Pack contains many of the most popular Heirloom Varieties available today. You will enjoy the colors and flavors of the old original varieties in your own garden.
The Tomato is an herbaceous, usually sprawling plant in the Solanaceae or nightshade family, as are its close cousins potatoes, chili peppers, tobacco, eggplant and the poisonous belladonna. It is a perennial, often grown outdoors in temperate climates as an annual. The tomato is native to South America. The tomato is now grown worldwide for its edible fruits, with thousands of cultivars having been selected with varying fruit types, and for optimum growth in differing growing conditions. Cultivated tomatoes vary in size from tomberries, about 5mm in diameter, through cherry tomatoes, about the same 1?2 centimetres (0.4?0.8 in) size as the wild tomato, up to "beefsteak" tomatoes 10 centimetres (4 in) or more in diameter.

Amish Paste
First acquired from Amish communities of Pennsylvania, Amish Paste tomatoes are know for their juicy, thick texture and succulent taste. They are an indeterminate variety, and require roughly 3 months from transplant to reach maturity and weights of 8 ounces or more. Amish Paste tomatoes are great eaten fresh in salads, and are also a good choice for sauces and purees.

Black Krim
Native to Russia, Black Krims produce beefsteak-type tomatoes that can show unique dark violet coloration when given plenty of sun exposure. They are indeterminate, and typically require 70-90 days to reach maturity after transplant. Black Krim are renowned for their great, mildy-tart taste.

Brandywine Pink
Brandywine tomatoes are among the oldest heirloom tomato varieties, and have been grown for well over 100 years. They produce a large, slightly sweet, pink, beefsteak tomato that can weigh 1 1/2 pounds. Time to maturation can be as long as 100 days after tranplanting. Indeterminate growing vines can reach 9 feet in height with plenty of light and heat.

Cherokee Purple
Ripens to a green color, with cream/yellow spots and stripes. The flavor is generally considered excellent and this variety often makes top ten lists for its taste.

Green Zebra
Green Zebra tomato plants produce relatively small (1/2 pound) green and yellow striped tomatoes. They are indeterminate growers and require around 80 days to mature after transplanting.

Mortgage Lifter
Mortgage Lifter tomatoes were developed by Willam Estler of Barboursville, West Virginia in the 1920s. According to lore, the unique and extraordinary taste of these tomatoes proved to be such a success that Mr. Estler was able to pay off his home mortgage within a few years by selling plants of this variety. The plants are indeterminate growers, and come to maturity 70-85 days after transplanting. Mortgage Lifter tomatoes are known for their sweet, rich flavor and prodigious size, with the beefsteak tomatoes sometimes reaching 2 pounds!

Pondorosa Pink
Ponderosa tomatoes are flavorful and meaty-and are a great choice for those looking for a tomato with low acidity. The large, pink beefsteak tomatoes typically need about 95 days to mature after transplanting. Vines are indeterminate growers.

Red Currant
Red Currant plants produce copious quantities of small (~1/2" diameter), deep red tomatoes that are exceptionally sweet and packed with flavor. They typically require around 75 days to reach maturity, and make a good choice for containers and hanging baskets, though they are indeterminate growers.

Red Strawberry
Strawberry tomatoes are native to Germany, and typically reach weights between 10-16 ounces. It requires around 80 days for the red, strawberry shaped fruits to reach maturity. Plants are indeterminate growers. Strawberry tomatoes are especially well-suited as slicers, and make an ideal addition to sandwiches and salads.

Siberian
Siberian tomatoes are unique in their tolerance of cool conditions, relative to other tomatoes. The can be successfully germinated at slightly lower temperatures than other varieties that typically need a starting medium temp of 75 degrees F or higher. Additionally, Siberian tomatoes can be grown in a shorter growing season, typically requiring 60-70 days after transplanting. The small, round tomatoes are versatile, and are especially well-suited for sauces, juices, and pastes. Siberian tomato plants are determinate growers, typically reaching 6-8' feet tall.

Tomatillo
Tomatillos have a slightly tangy or citrus taste and are a key ingredient in many traditional Mexican dishes. The enclosed fruit is housed in a delicate husk that resembles a green lantern. Tomatillos will not cross with tomatoes, though both are members of the Nightshade (or Tomato) family Solanaceae. Tomatillo varieties include De Milpa, Purple and Verde.

Yellow Plum
Yellow Plum tomatoes are flavorful and make a great slicer. Healthy plants will produce good quantities of the small, plum-shaped fruits. Indeterminate growers typically require 75-80 days to reach maturity after transplanting.
*Due to ongoing seed shortages, seed varieties subject to change without notice. Replacements will be as close as possible and will be included in your order documentation.
Non-Hybrid or Open-Pollinated seeds allow the gardener to collect seeds from a crop for future planting. Hybrid seeds do not. All Heirloom Organics Seed Packs are 100% Non-Hybrid AND Non-GMO (genetically modified) and specially sealed for long term storage. Use now AND save for emergency. All from the same hermetically sealed pack!
Seed Count:
| | | |
| --- | --- | --- |
| Heirloom Tomato Pack | | |
| | | |
| Variety | g | Seed Count |
| | | |
| Tomato: Amish Paste | 0.1 | 35 |
| Tomato: Black Krim | 0.1 | 35 |
| Tomato: Brandywine Pink | 0.1 | 35 |
| Tomato: Cherokee Purple | 0.1 | 35 |
| Tomato: Green Zebra | 0.1 | 35 |
| Tomato: Mortgage Lifter | 0.1 | 35 |
| Tomato: Ponderosa Pink | 0.1 | 35 |
| Tomato: Red Currant | 0.1 | 35 |
| Tomato: Red Strawberry | 0.1 | 35 |
| Tomato: Siberian | 0.1 | 35 |
| Tomato: Tomatillo Verde | 0.1 | 35 |
| Tomato: Yellow Plum | 0.1 | 35 |
| | | |
| | 1.2 | 423 |
FREQUENTLY ASKED QUESTIONS
Q: How long will my seeds last?
A: Shelf life varies depending on the seed, but it ranges from 1-10 years dependent on the type of seed. Herbs and Teas have a shelf life of 2-3 years, vegetables and fruits range from 5-7 years, and grains range from 7-10 years. Store all seeds in a cool, dry, and dark location to maximize life. Do not freeze and do not expose to heat.

Q: Why should I use non-hybrid (open pollinated) rather than hybrid seeds?
A:
Better Nutrition – Commercial Produce lacks nutrition, research has shown.
Sustainable Gardening - Saving Seeds is only possible with open-pollinated seeds
Economic Security – In recessions and depressions, FOOD IS ECONOMIC SECURITY
Food Supply Independence – If food supplies are challenged, home gardening is freedom.
Crop Diversity – Participate in saving the original strains from extinction
Investment Hedge – Seeds are an excellent alternative investment to paper money, stocks and securities, even gold if the markets were to dive long-term.
Q: Why should I buy Heirloom Organics Non-Hybrid Seed Packs?
A:
Best price – Heirloom Organics Seed Pack are wholesale or bulk amounts of seed sold in complete, integrated packs.
Largest Amount – Our Seed Packs are HUGE! From the Vault to the Farm Pack, we provide bulk quantities in our packs.
Long-Term Storage Prepared – We use the VAULTtm method to extend seed life up to twice.
Use now AND store for later – Our Packs are double sealed so you can use seeds this year and store the rest without harming the extended shelf-life.
Q: Can I open my seeds, use some and re-seal them for storage?
A: Yes. They are double sealed so you can reseal them without harming the shelf life.
Q: Can I buy individual packets?
A: No, we ONLY SELL COMPLETE SETS. This is the only way we can provide wholesale amounts AND process them for long-term storage. Sorry, No individual Packets and no replacements.
Q: Should I freeze my seeds?
A: Only if you plan to keep them there. Freezing DOES help extend seed life as long as they are not removed often.
Q: How Much will shipping be?
A: UPS determines the shipping amount. The shipping cost will be added to your order once you place it.
Q: Do you ship to Europe/Asia?
A: We only ship to U.S. and Canada currently. Agricultural restrictions between countries make it very difficult to ship seeds.
Q: You DO ship to Canada?
A: Yes we do, however, Canada restricts some grains like wheat, barley and rye. We must provide replacements on some packs and some we cannot ship at all. Please see the list.
Q: What are Heirloom seeds?
A: Heirloom seeds are simply the oldest strains of open pollinated seeds. Varieties that were commonly grown during early periods of history. No one really agrees at what age a seed becomes 'heirloom'. Some say fifty years, others disagree. It is not necessary to have "heirloom" seeds for a survival or preparedness garden. Open pollinated seeds are what is required.
Q: What about variety replacements?
A: Due to ongoing seed shortages, seed varieties subject to change without notice. Replacements will be as close as possible and will be included in your order documentation.
Q: Do I get instructions or assistance?
A: Yes! When your product arrives, you will have access to the largest Organic Growing Guide on the internet for free, 24/7 information.