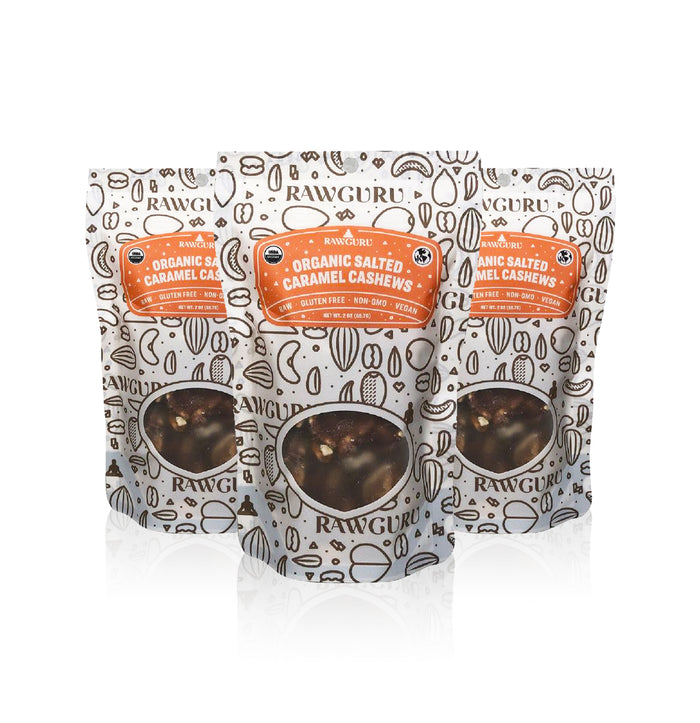 Organic Salted Caramel Cashews 2 oz (3-Pack)
Original price
$ 10.47 USD
Original price
$ 10.47 USD
-
Original price
$ 10.47 USD
Original price
$ 10.47 USD
Current price
$ 10.39 USD
$ 10.39 USD
-
$ 10.39 USD
Current price
$ 10.39 USD
Sold out
Item Number:
850020805624_3com
Rawguru Organic Salted Caramel Cashews 2 oz (3-Pack)
Grab a handful of our premium Organic Salted Caramel Cashews anytime you need a sweet tooth fix with serious crunch and a hint of salt. Made with premium quality raw cashews, stone ground coconut butter, unrefined coconut sugar, real vanilla bean, and Celtic sea salt - this satisfying snack is as healthy as it is delicious.

Craving chocolate? Give this mix a try as a topping on our Rawmio Salted Caramel and Cashew Bars!


USDA Organic
Raw
Gluten-Free
Non-GMO
Vegan

Serving size: 1oz (28g)
Servings per container: 2

Ingredients: Cashews*, Coconut Sugar*, Coconut Butter*, Sea Salt, Vanilla Bean Powder*

*Organic