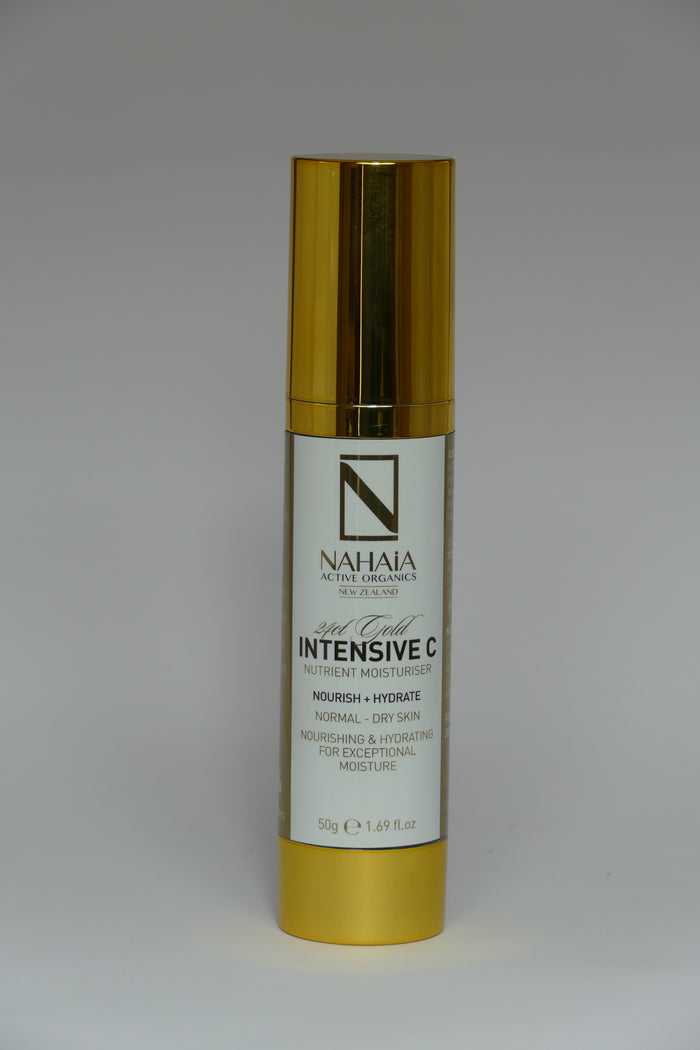 24KT Gold Intensive C Nutrient Moisturizer 50g
Original price
$ 121.00 USD
Original price
$ 121.00 USD
-
Original price
$ 121.00 USD
Original price
$ 121.00 USD
Current price
$ 110.00 USD
$ 110.00 USD
-
$ 110.00 USD
Current price
$ 110.00 USD
Sold out
24KT Gold Intensive C Nutrient Moisturizer 50g
*For 48 US Contiguous States shipping only*

**This item ships directly from the vendor, choice of carrier is not optional.  Vendor will ship item(s) per their discretion**


Nahaia Intensive C is a enriched with Vitamin C, peptides and plant botanicals. This intensely hydrating and regenerating moisturiser helps to diminish the appearance of fine lines, while improving skin clarity for a radiant glow.

Directions:
Warm 2-3 pumps in the fingers and apply to the face and neck after Radiant Light Serum. For best results, use morning and evening.

100% of the ingredients are from natural origin and 82% of the ingredients are coming from Organic Farming.

Ingredients:
Purified Water (Aqua) Purified Grander Energised Water (Aqua), *Organic CalendulaOfficinalis Flower Infused in Helianthus Annuus See Oil, Cetearyl Glucoside,Cetearyl Alcohol, *Organic Rosa Rubiginosa (Rosehip) Oil, *Organic Argania Spinosa(Argan) Oil, Glyceryl Stearate, Capric/Caprylic Triglyceride, *Organic ButyrospermumParkii (Shea Butter), Sodium Ascorbyl Phosphate (Vitamin C), *Organic CalendulaOfficinalis (Calendula) Extract, *Organic Althaea Officinalis (Marshmallow) Extract,*Oenothers Biennis (Evening Primrose) oil, Tocopherol Acetate (Natural Vitamin E),*Organic Glycerine, Cetearyl Alcohol (and) Cetearyl Glucoside, Fragrance (Naturalfragrance),Gluconolactone, Sodium Benzoate, Xanthun Gum, Colloidal Gold,Glycyrrhiza Glabra (Licorice) Extract, Metrosideros Excelsa (Pohutukawa) Tincture,Commiphora Molmol (Myrrh) Tincture, Dehydroacetic Acid, Benzyl Alcohol, *OrganicArgania Spinosa kernel extract, Manilkara Multinervis (Manilkara) Leaf Extract,Potassium Sorbate, Beta-Carotene, Sodium Hyaluronate (Hyaluronic acid), SclerotiumGum (Natural Vegetable Gum), 24ct Gold Leaf, Mica, Titanium Dioxide,
Iron Oxide.

*Certified Organic Ingredient.