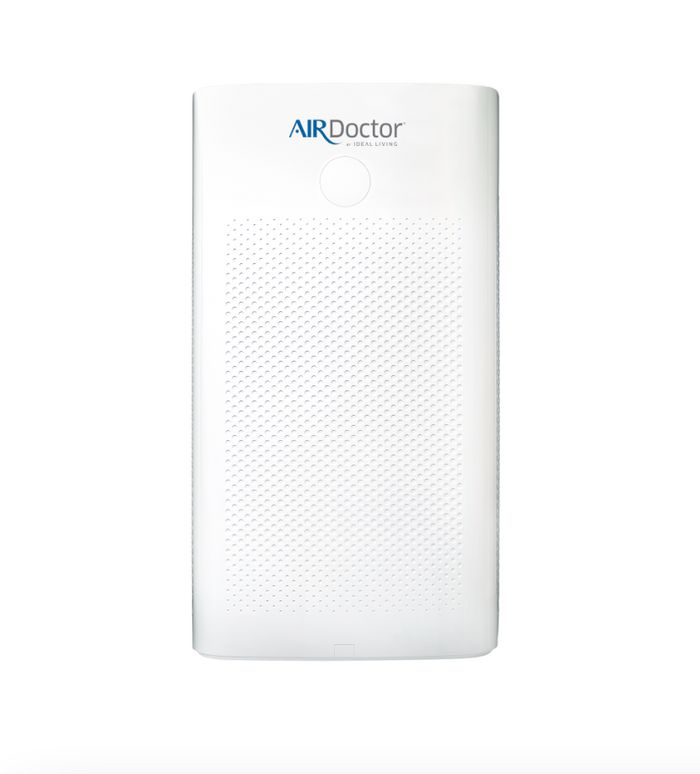 AirDoctor 5500
Original price
$ 999.00 USD
Original price
$ 999.00 USD
-
Original price
$ 999.00 USD
Original price
$ 999.00 USD
Current price
$ 899.00 USD
$ 899.00 USD
-
$ 899.00 USD
Current price
$ 899.00 USD
$ 100.00 USD

(10 %)
AirDoctor 5500
**Shipping to 48 contiguous States Only**
**This item ships directly from the vendor, choice of carrier is not optional.  Vendor will ship item(s) per their discretion**
We have updated our most powerful and quietest purifier with a new patented filter design. The pure air solution for extra large spaces, high ceilings and open concepts. Circulates the air in 1,001 sq. ft. 4x/ hour or in 2,002 sq. ft. 2x/hour.
PROVEN BY SCIENCE

The science of clean air is complex. But our mission is simple: to provide uncompromised quality at a revolutionary price. AirDoctor is backed by rigorous, third-party laboratory testing to deliver superior performance and peace of mind.

In third-party laboratory testing conducted by MRIGlobal, AirDoctor 5500 removed 99.97% of the live SARS-CoV-2 virus from the air in a test chamber.

AirDoctor 5500 removed 99.99% of tested bacteria & viruses, including H1N1 in third-party laboratory testing.

AirDoctor 5500 is independently tested & proven to capture airborne particles as small as 0.003 microns in size.
FEATURES & BENEFITS

Ultra-HEPA Filter
Dual Action Carbon/Gas Trap/Voc Filter
Auto-Mode & AirQuality Sensor
Sealed System
Change Filter Alert
Quiet Performance
Capture The Contaminants You Can't See

SMOKE - 0.1-1 MICRONS
BACTERIA - 0.06-0.2 MICRONS
VIRUSES - 0.06-0.1 MICRONS
PET DANDER - 

2.5-10 MICRONS

POLLEN - 10-20 MICRONS
MOLD - 10 MICRONS
Why are air changes per hour (ACH) important in shopping for an air purifier? 
If you're not moving the air, you're not cleaning the air. Experts recommend at least 4 air changes per hour for optimal removal of airborne particles from the air. You can rest assured that AirDoctor purifiers are powerful enough to clean the air 4 times per hour, or every 15 minutes, for their respective room size coverage to deliver you pure, protected air. Many air purifiers base their room size coverage on only 1-2 air changes per hour (ACH). It is important to check that an air purifier has a high enough CADR to circulate the air in the room at least four times per hour.
How Often Do I Need to Change the Filters? 
AirDoctor 5500 can tackle the contaminants in extra-large spaces like open concept living rooms and high ceiling great rooms, changing the air in up to 1,001 square feet 4 times per hour, or every 15 minutes.

AirDoctor Purifier 5500

Room Size Coverage:
1,001 sq. ft. 4x/hour
2,002 sq. ft. 2x/hour

Air Quality Particle Sensor ✔

Air Quality Indicator Light ✔

Auto Mode ✔

Fan Speeds:
6

Filters: 
2 Permanent Pre-Filters
2 Carbon/VOC Filters
2 H13 UltraHEPA Filters

Recommended Filter Change Frequency*: 
*based on 24/7 Usage
Carbon/VOC Filter: Every 6 months
UltraHEPA Filter: Every 12 months

CADR (Smoke)/CFM: 
534

Voltage:
120V/60Hz

Sound levels:
Lowest Speed: 30 dB
Highest Speed: 50 dB

Dimensions:
16" (D) x 16" (D) x 28.75" (H)

Weight:
33lbs

Portability:
Built-in, hidden casters & recessed handles

AirDoctor 3000/3500 and 5000/5500 replacement air filters
To keep your AirDoctor Air Purifier functioning as efficiently as possible, you'll need to replace your air filter on a regular basis. Whether you're using an AirDoctor 3000/3500 or an AirDoctor 5000/5500, if it has been operating 24 hours a day, 7 days a week, you'll only need to change your UltraHEPA™ filter once a year and the Carbon/Gas Trap/VOC filter once every 6 months. But in case you forget, the AirDoctor's Change Filter Alert will conveniently let you know when you need a replacement.
Return Policy:

Please contact Health Ranger Store Customer Service for your return authorization. Do not contact the Manufacturer directly.
Customer will be refunded original cost of the product minus a 15% restocking fee. The original shipping cost incurred by the Vendor will be deducted as well.
Return Shipping Costs is at customer's expense.