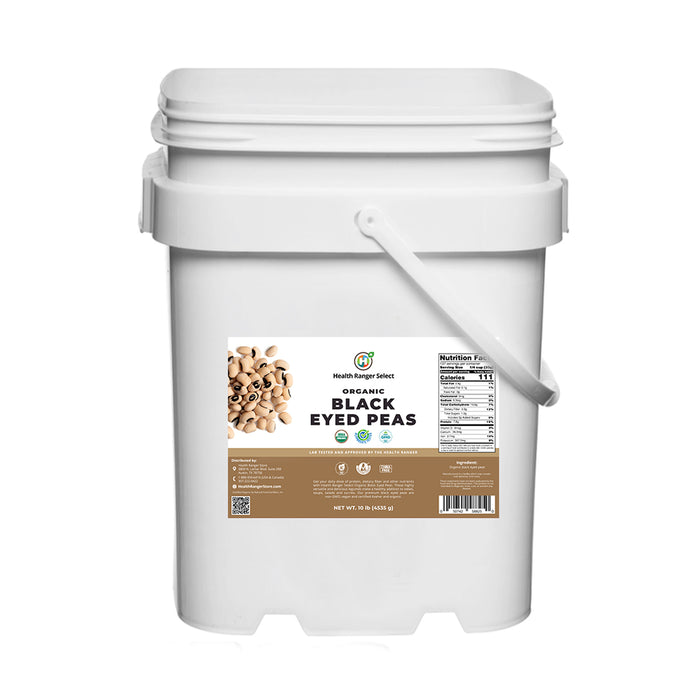 Mega Bucket Organic Black-Eyed Peas (10LB, 4535g)
Original price
$ 105.95 USD
Original price
$ 105.95 USD
-
Original price
$ 105.95 USD
Original price
$ 105.95 USD
Current price
$ 89.95 USD
$ 89.95 USD
-
$ 89.95 USD
Current price
$ 89.95 USD
$ 16.00 USD

(15 %)
Item Number:
050742588250
Mega Bucket Organic Black-Eyed Peas (10LB, 4535g)
This item is 10lbs of product, sealed into 5 x 2lb packages and stored in a 2 gallon bucket.
 *Mega Buckets only available to ship to US or Canada*
*We can NOT ship Mega

 

Buckets to a PO Box address*
Free Shipping (within the 48 contiguous United States only) is via FedEx or UPS. If you want it shipped via USPS, you will need to pay for "STANDARD" shipping.
Get your daily dose of protein, dietary fiber and other nutrients with Health Ranger Select Organic Black Eyed Peas. These highly versatile and delicious legumes make a healthy addition to stews, soups, salads and curries. Our premium black eyed peas are non-GMO, vegan and certified Kosher and organic. They are also lab tested for glyphosate, heavy metals and microbiology.
Explore More About Organic Black-Eyed Peas Now!
USDA Organic
Glyphosate Tested
Kosher Certified
Vegan
Non-GMO
Laboratory Verified
China-Free
Ingredients: Organic

Black Eyed Peas
Serving Size:
 1/5 cup (33g)
Serving per container:
 137
Product of Peru
#10

 Cans, Mega Buckets, and Health Ranger Buckets Return Policy
Due to the nature of our storage foods, all #10 cans, Mega-Buckets, and Ranger Buckets Sets will be subject to a 20% restock fee. All items must be shipped back within 30 days and must be unopened (including external seals in tact), in their original packaging and resalable condition.  Once received and inspected, we will refund your method of payment, less original shipping/delivery charges. If you are past the 30 day mark on your purchase, we will not accept the items back nor offer you a credit or refund.
**These statements have not been evaluated by the FDA. This product is not intended to treat, cure or diagnose any diseases.
Manufactured in a facility which may contain nuts (peanuts, tree nuts).
Glyphosate-Tested
This product is verified A+++ based on glyphosate analysis standards published at www.GlyphosateTested.com.
This means the product has been tested via triple quad mass spec (LS-MS-MS) and conforms to the glyphosate / AMPA limits required for an A+++ rating as described at www.GlyphosateTested.com.
Low Heavy Metals Verified!
This product is verified A+++ according to the heavy metals standards published at www.LowHeavyMetalsVerified.org
This means the product has been tested via ICP-MS and confirmed to meet the limits for an A+++ rating as described at LowHeavyMetalsVerified.org.