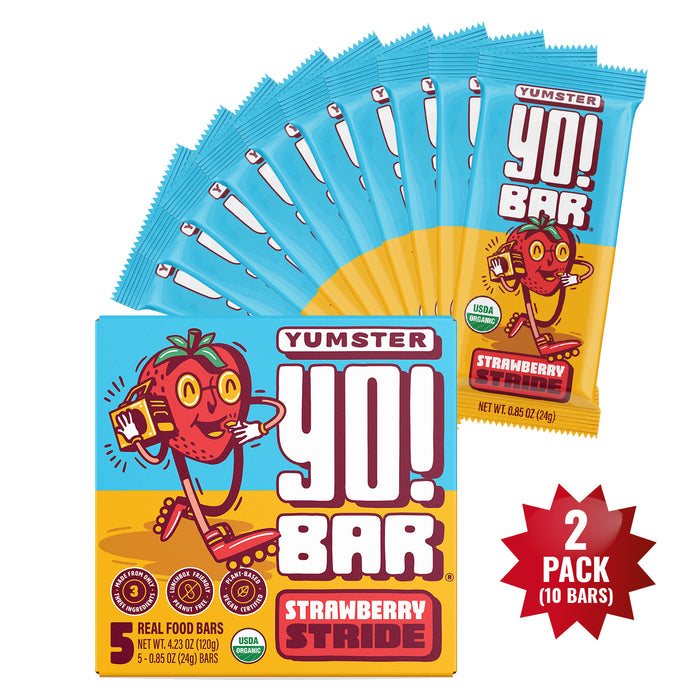 Bearded Brother's Yumster Yo! Bar – Strawberry Stride 5 Bars (2-Pack)
Original price
$ 12.99 USD
Original price
$ 12.99 USD
-
Original price
$ 12.99 USD
Original price
$ 12.99 USD
$ 3.01 USD

(23 %)
Item Number:
854030005753_2com
Bearded Brother's Yumster Yo! Bar – Strawberry Stride 5 Bars (2-Pack)
We made these organic bars to taste absolutely delicious and to be super clean and simple. When we say super clean and simple, we mean it - the bars you'll receive contain only 3 ingredients: organic dates, organic almond butter, organic strawberry.

Here is what you get from Bearded Brothers® bars: clean, simple, organic, truly delicious. We use the "good stuff" so you can feel good about what you're eating.

Superior ingredients. Superior taste.

From California, to Oregon, to the Midwest, we work directly with U.S.-based family farms to source the best organic ingredients we can find. We only use simple ingredients like nuts, fruits, and seeds that provide healthy nutrition, and never use artificial flavors, additives, or preservatives. With these superior ingredients we focus on creating flavors that give you that burst of flavor and enjoyment you deserve when downing our bars.

Made in-house in Austin, TX.

Since the beginning, we have always handcrafted our bars in our own kitchen. We think the best way to guarantee that what goes out the door really is best in class is to make sure it's done right, by those that care the most. We're meticulous and dedicated to ensure that every bar packaged is given the care necessary to give our customers an experience worth enjoying.
All Organic
Non-Gmo
Plant Based
Vegan
No Added Sugar
Gluten Free
Soy Free
Dairy Free
Grain Free
Real Food!
Ingredients:
Organic dates, Organic almond butter, Organic strawberry.
Serving size:
1 bar (24 g)
Servings: 1
Product of USA
Storage instructions:
 Store in a cool dry place. Avoid direct sunlight.
**These statements have not been evaluated by the FDA. This product is not intended to treat, cure or diagnose any diseases.
Manufactured in a facility which may contain nuts (peanuts, tree nuts).