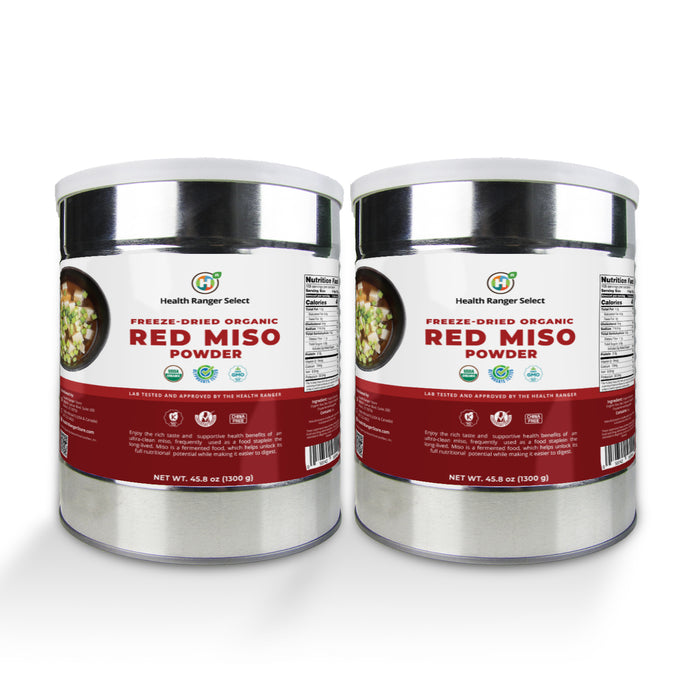 Freeze Dried Organic Red Miso Powder 45oz (1300g) #10 can (2-Pack)
Original price
$ 228.95 USD
Original price
$ 228.95 USD
-
Original price
$ 228.95 USD
Original price
$ 228.95 USD
Current price
$ 149.95 USD
$ 149.95 USD
-
$ 149.95 USD
Current price
$ 149.95 USD
$ 79.00 USD

(35 %)
Item Number:
050742580940_2com
Freeze Dried Organic Red Miso Powder 45oz (1300g) (2-Pack)
**We can NOT ship #10 Can to PO Boxes; we need a physical address**
**Due to the weight and volume of this product, it is restricted Internationally**

**This product can be stored up to 10-15 years, depending on storage conditions. Keep it in a dark, cool, low-humidity location and it will last for an extended duration. Heat, humidity and light will degrade all storable foods**

Ranging from red to dark brown in color, "aka miso" or red miso is made from organic soybeans fermented with organic rice, though with a higher concentration of organic soybeans and a longer fermentation period than yellow miso.
Red miso is high in protein and best complements most meaty vegetables, such as eggplants and mushrooms. The deep umami flavor of red miso is perfect for hearty soups, braises, marinades, stews, gravies, and glazes.
Health Ranger Select Organic Freeze-Dried Red Miso Powder has a stronger flavor than our yellow version. We therefore recommend using it sparingly so as not to overpower milder ingredients.
Health Ranger Select Organic Freeze-Dried Red Miso Powder is made with the highest-quality organic soybeans, organic rice, sea salt, and organic Aspergillus oryzae as the fermenting agent. The miso is then carefully freeze-dried to extend its shelf life and preserve its freshness and nutritional quality. Health Ranger Select Organic Freeze-Dried Red Miso Powder is certified organic and Kosher and is packaged in a USDA Certified Organic Facility. Additionally, this product is vegan, non-GMO, non-China, and is lab tested for glyphosate, heavy metals, and microbiology. It contains no added gluten or wheat.
Health benefits of red miso:*
Supports healthy digestion – Fermented miso can help support your body's natural ability to digest and absorb foods. Many people in Japan begin their day with a bowl of miso soup to support their digestive system and energize their bodies. Miso is also rich in dietary fiber, which further maintains healthy digestion.
Uplifts and elevates your mood – Miso soup is often used as a traditional remedy for mood support. Try a nice, warm bowl of miso soup the next time you need to lift your spirits.
Supports a healthy immune system – You can support healthy immune defenses by eating fermented foods like miso that maintains healthy gut flora. Miso also contains plenty of immune-supporting antioxidants that can combat harmful free radicals.
Supports healthy cardiovascular function – The isoflavones present in miso support healthy cholesterol levels already within the normal range. Miso also contains an abundance of antioxidants that can help protect your heart from oxidative stress.
Maintains optimal cognitive health – Fermented foods can support a healthy brain and cognitive function. Studies show that the acetylcholine in fermented soy plays a vital role in memory formation.   
Supports a healthy nervous system – Miso contains high levels of B vitamins, including vitamins B6 and B12. Your body needs these vitamins to maintain the optimal health of your nervous system.
Supports strong and healthy bones – You can get plenty of calcium, potassium, isoflavones, and vitamins E and K from miso soup. These nutrients can support strong and healthy bones.
Supports sensible weight management plans – When accompanied by a well-balanced diet and proper exercise, miso can help you achieve your reasonable weight management goals. Miso is also a rich source of dietary fiber, which can naturally help curb an appetite. 
Wide range of extremely bioavailable nutrients – Miso is packed with highly bioavailable nutrients, including copper, manganese, phosphorus, fiber, zinc, potassium, calcium, iron, magnesium, B vitamins, and vitamins E and K. Miso soup also contains isoflavones, saponins, melanoidins, and plant-based protein.
Explore More About Organic Fermented Red Miso Now!
USDA Organic
Non-GMO
Glyphosate Tested
Vegan
Kosher Certified
Laboratory Verified
China Free
Contains no added gluten
Ingredients: Organic Soybeans, Organic Rice, Salt, Organic Aspergillus Oryzae - fermenting agent
Contains: Soy
Serving size:
 (4 tsp) 12 g
Serving per container:
 108
Product of USA
Note:   To ensure the longevity of storage and safety of our product sold in #10 can packaging, we enclose the product inside Ziploc storage bags and placed inside our #10 cans.  The Ziploc bags are BPA free, made for food grade products and have an exceptionally long shelf life.
Storage notes: Store in a cool, dry area.
**These statements have not been evaluated by the FDA. This product is not intended to treat, cure or diagnose any diseases.
Manufactured in a facility which may contain nuts (peanuts, tree nuts).
Glyphosate-Tested
This product is verified A+++ based on glyphosate analysis standards published at

 

www.GlyphosateTested.com.
This means the product has been tested via triple quad mass spec (LS-MS-MS) and conforms to the glyphosate / AMPA limits required for an A+++ rating as described at

 

www.GlyphosateTested.com.
Low Heavy Metals Verified!
This product is verified A+++ according to the heavy metals standards published at

 

www.LowHeavyMetalsVerified.org
This means the product has been tested via ICP-MS and confirmed to meet the limits for an A+++ rating as described at

 

LowHeavyMetalsVerified.org.