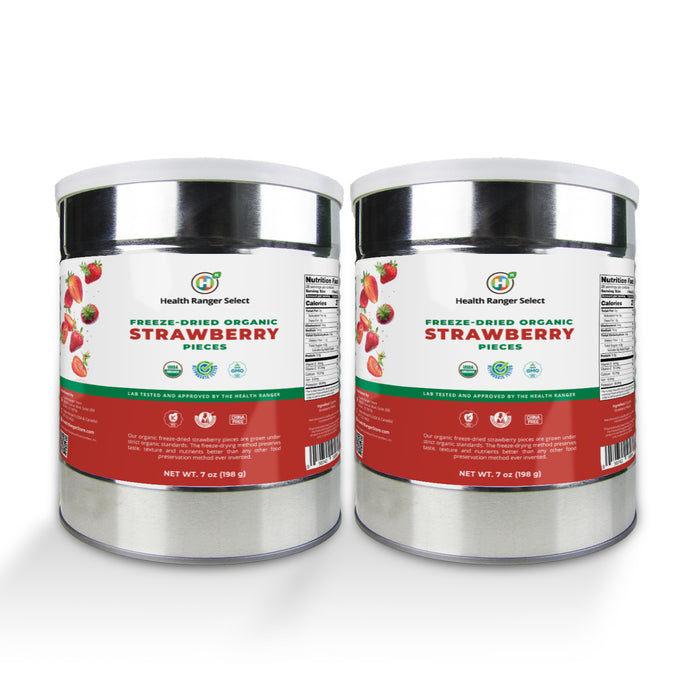 Freeze-Dried Organic Strawberry Pieces (7oz, #10 can) (2-Pack)
Original price
$ 131.95 USD
Original price
$ 131.95 USD
-
Original price
$ 131.95 USD
Original price
$ 131.95 USD
Current price
$ 104.95 USD
$ 104.95 USD
-
$ 104.95 USD
Current price
$ 104.95 USD
$ 27.00 USD

(20 %)
Item Number:
050742580858_2com
Health Ranger Select Freeze-Dried Organic Strawberry Pieces (7oz, #10 can) (2-Pack)
**We can NOT ship #10 Can to PO Boxes; we need a physical address**
**USA and Canada Shipping Only! (Due to the weight and volume of this product, it is restricted Internationally)**

**This product can be stored up to 10-15 years, depending on storage conditions. Keep it in a dark, cool, low-humidity location and it will last for an extended duration. Heat, humidity and light will degrade all storable foods**

One of the most popular fruits in the world, strawberries are the bright red, heart-shaped fruits that grow on the 
Fragaria x ananassa
 plant that belongs to the rose family. These superfruits are loaded with essential vitamins and minerals, such as dietary fiber, protein, magnesium, manganese, phosphorus, potassium, calcium, iron, copper, phosphorus and vitamins A, B6, B9, C, E and K.
Health Ranger Select Freeze-Dried Organic Strawberry Pieces make for a tasty and healthy snack you can enjoy all year round. With their crispy texture and natural abundance of vitamin C and other beneficial antioxidants and nutrients, our freeze-dried organic strawberry pieces can add a burst of flavor and nutrition to all your favorite pancakes, muffins, pies, salads and baked goods. They can even be eaten directly for a quick and healthy snack.
Health Ranger Select Freeze-Dried Organic Strawberry Pieces contain no gluten or GMOs and are certified Kosher and organic. Our premium strawberry pieces are also vegan, non-China and have been meticulously lab tested for glyphosate, heavy metals and microbiology.
Health benefits of strawberries**

Support healthy digestive function

 
- A cup of fresh, organic strawberries contains three grams of dietary fiber per cup. With its high fiber content, strawberries can support a healthy digestive system and regular bowel movements.
Support healthy cardiovascular function
 - Strawberries are heart-healthy snacks that are loaded with nutrients that support healthy cardiovascular function, such as fiber, potassium, magnesium and folate. Strawberries are also known to help maintain healthy cholesterol and blood sugar levels that are already within the normal range.
Support healthy immune function
 - Strawberries are one of the best natural sources of vitamin C, an essential nutrient that your body needs for optimal immune health. Strawberries also contain a variety of other immune-supporting nutrients, such as iron, potassium, magnesium, manganese, zinc, folate and vitamin K.   
Support healthy eye function

 
- Strawberries contain high levels of antioxidant plant compounds that can protect your eyes against oxidative damage and support optimal eye health. Some of these potent antioxidants include vitamin C, quercetin and flavonoids.
Support healthy cognitive function -

 
A study that appeared in the journal 
Annals of Neurology

 
indicated that the regular consumption of strawberries can support healthy cognitive function in older adults. This is likely due to their high content of a compound called fisetin, as well as other nutrients, such as manganese, flavonoids and anthocyanidins.
Support the growth of healthy skin
 - Strawberries are packed with vitamin C, anthocyanins and other antioxidants that help protect your skin against damage caused by free radicals. They also contain other skin-healthy compounds, such as salicylic acid, alpha hydroxy acid (AHA) and ellagic acid.
Supports your body's natural process of elimination
 - Strawberries support your body's natural process of eliminating unwanted toxins by providing plenty of soluble fiber and insoluble fiber, as well as vitamins A and C. These nutrients help restore the health of your digestive tract, allowing it to work more efficiently.
Naturally elevate your mood
 - Like many other brightly-colored berries, strawberries contain high levels of antioxidant flavonoids which can have a positive impact on your mood. The regular consumption of flavonoid-rich strawberries can support your body's natural production of serotonin, which is also known as your body's "feel-good hormone."
Strawberries are a rich source of vitamin C and other potent antioxidants**
Strawberries contain a surprisingly high amount of vitamin C. In fact, a single cup of fresh strawberries can provide approximately 100 mg of vitamin C. This essential nutrient supports the healthy functions of your skin, heart, bones and connective tissues, as well as your immune and digestive systems. As a potent antioxidant, vitamin C is also very effective at combating oxidative stress and supporting overall health.
Aside from vitamin C, strawberries also contain high levels of natural anthocyanin pigment antioxidants, such as pelargonidin, ellagic acid, ellagitannins and procyanidins. Of the more than 25 different anthocyanins found in strawberries, pelargonidin is the most abundant. A study that appeared in 
The Journal of Nutrition

 
indicates that strawberries are one of the top sources of phenolic antioxidants, with up to 11x higher antioxidant levels than most other fruits.
Other potent antioxidants that can be found in strawberries include quercetin, kaempferol, uteolin, gallic acid, catechin and a variety of other flavonoids, flavonols and polyphenols. As a potent source of antioxidants, strawberries can help protect your body from damage caused by free radicals and support your overall health and well-being.
Explore More About Freeze-Dried Organic Strawberry Pieces Now!
USDA Organic
Glyphosate-Tested
Non-GMO
Vegan
Kosher Certified
Gluten Free
Laboratory Verified
China Free
Ingredient:
Organic Strawberry
Serving size:
4 tbsp (7 g)
Serving per container:
 28
Product of Mexico
#10 Cans, Mini Buckets, and Health Ranger Buckets Return Policy


Due to the nature of our storage foods, all #10 cans, Mini-Buckets, and Ranger Buckets Sets will be subject to a 20% restock fee. All items must be shipped back within 30 days and must be unopened (including external seals in tact), in their original packaging and resalable condition.  Once received and inspected, we will refund your method of payment, less original shipping/delivery charges. If you are past the 30 day mark on your purchase, we will not accept the items back nor offer you a credit or refund.
Important: Freeze-dried foods will absorb water like a sponge. Once you open these bags or cans, you must seal them in an air-tight manner.
Note:   To ensure the longevity of storage and safety of our product sold in 

#10

 can packaging, we enclose the product inside Ziploc storage bags and placed inside our 

#10

 cans.  The Ziploc bags are BPA free, made for food grade products and have an exceptionally long shelf life.
**These statements have not been evaluated by the FDA. This product is not intended to treat, cure or diagnose any diseases.
Manufactured in a facility which may contain nuts (peanuts, tree nuts).
Glyphosate-Tested
This product is verified A+++ based on glyphosate analysis standards published at www.GlyphosateTested.com.
This means the product has been tested via triple quad mass spec (LS-MS-MS) and conforms to the glyphosate / AMPA limits required for an A+++ rating as described at www.GlyphosateTested.com.
Low Heavy Metals Verified!
This product is verified A++ according to the heavy metals standards published at www.LowHeavyMetalsVerified.org
This means the product has been tested via ICP-MS and confirmed to meet the limits for an A++ rating as described at LowHeavyMetalsVerified.org.

Customer Reviews
These are great! I love having them in my prepper pantry. they are great in cereal and smoothies!
Read More Reviews!