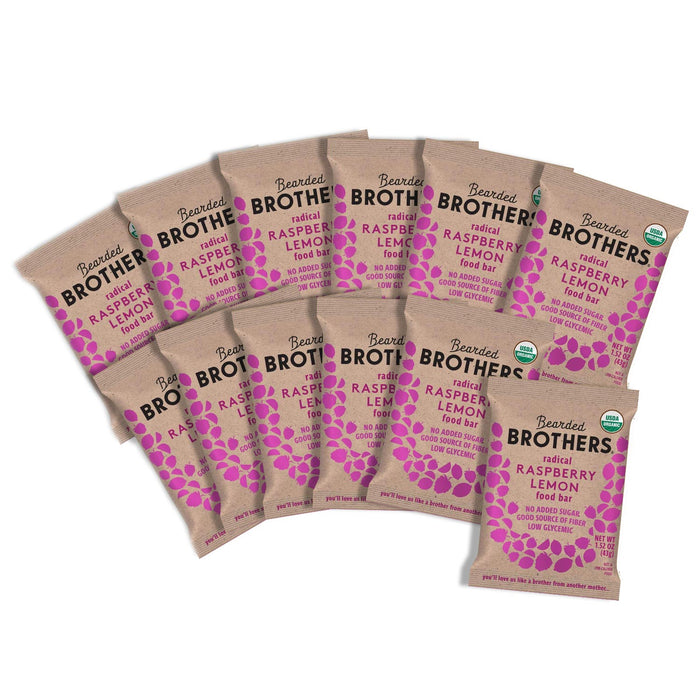 Radical Raspberry Lemon Energy Bars (12 Pack)
Original price
$ 33.48 USD
-
Original price
$ 33.48 USD
Original price
$ 33.48 USD
$ 33.48 USD
-
$ 33.48 USD
Current price
$ 33.48 USD
Item Number:
854030005197
Radical Raspberry Lemon Energy Bars (12 Pack)
Bearded Brothers only uses organic, all natural ingredients with no artificial preservatives. To ensure freshness and best experience, we recommend consuming shortly after receiving. If planning to store for a longer period, we recommend storing in a dry, cool place, perhaps refrigerating, to further maintain shelf life and freshness.
A full case of our radically fruity bar! From a base of figs and dates, we add dried raspberries, lemon powder, crunchy hemp and chia seeds and top it off with a bit of sunflower seed butter. It's creamy and satisfying with a refreshing citrus kick! We believe this is our tastiest bar yet. The name says it all... Radical Raspberry Lemon! 
USDA​ ​Organic
Certified Vegan
Kosher
Gluten​​ ​Free and Soy Free
Paleo
Low Glycemic

Good Source of Fiber and Omega 3

No Added Sugar* Artificial Sweetener
Ingredients:
  organic figs, organic dates, organic sunflower butter (organic roasted sunflower seeds), organic shelled hemp seeds, organic raspberries, organic chia seeds, organic lemon powder, sea salt
Individual Bar Weight:
1.52 oz