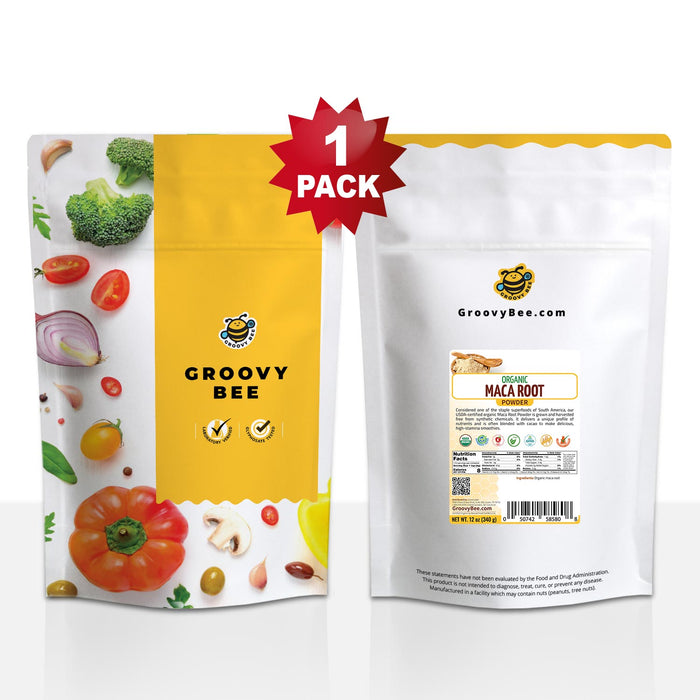 Organic Maca Root Powder 12 oz (340 g)
Original price
$ 20.95 USD
Original price
$ 20.95 USD
-
Original price
$ 20.95 USD
Original price
$ 20.95 USD
Current price
$ 18.95 USD
$ 18.95 USD
-
$ 18.95 USD
Current price
$ 18.95 USD
$ 2.00 USD

(10 %)
Item Number:
050742585808
Groovy Bee® Organic Maca Root Powder 12 oz (340g)
Considered one of the world's most nutritionally dense superfoods, maca (
Lepidium meyenii)

 
is a yellow cruciferous root vegetable that can often be found
growing in harsh terrain, high in the Andean Mountains, at altitudes of 8,000 to 14,000 feet. A staple in Ayurvedic medicine, maca root powder boasts a robust phytonutrient content and is widely consumed to support natural strength, endurance and stamina. Plus, it can do all this without caffeine.
The Health Ranger Store is committed to bringing you one of the cleanest maca root products on the market. After extensive quality inspections and lab testing, we've finally found a clean source of organic maca root powder. An excellent caffeine-free alternative to coffee, Groovy Bee® Organic Maca Root Powder delivers a variety of vitamins, minerals and antioxidants that can keep you feeling energized and help nourish your mind and body. 
Groovy Bee® Organic Maca Root Powder is derived from ultra-clean maca grown under strict organic standards by our trusted suppliers. It contains no gluten, GMOs or additives and is thoroughly lab tested for glyphosate, heavy metals and microbiology. It is also vegan, non-irradiated and is certified Kosher and organic. Supplies are strictly limited, so stock up on ultra-clean maca root powder now, while supplies last.   

Health benefits of maca root powder**Supports healthy immune function
– According to a study that appeared in the journal
International Journal of Obesity
, maca root contains glucosinolates which your body breaks down into indole-3-carbinol that can support a healthy immune system. Additionally, maca root contains high levels of protein, antioxidants and immune-supporting plant sterols.
Supports healthy cognitive function
– A study that appeared in the journal
Toxicology Mechanisms and Methods

 
indicated that maca root can support optimal brain functions, such as memory, concentration and memory performance. Maca root powder is the perfect caffeine-free coffee alternative to help perk up your mind and enhance your focus. 
Supports healthy cardiovascular function
– According to a study from the
American Journal of Hypertension,
maca root powder contains the compound sulforaphane, which can help maintain healthy blood pressure levels that are already within the normal range. Maca root is also packed with heart-healthy flavonoids and other antioxidants that support healthy blood circulation.
Supports healthy reproductive function
– According to a 2010 article from the
BMC Complementary and Alternative Medicine Journal
, maca root is well-known for supporting optimal reproductive health in both men and women. The compound responsible for maca root's fertility-supporting properties is p-methoxybenzyl isothiocyanate, which cannot be found in any other superfood. 
Supports healthy thyroid function
– Due to its high phytonutrient content, maca root can nourish your endocrine system, including your hypothalamus, adrenal glands and most importantly, your pituitary gland. These "master glands" are responsible for the natural production of hormones throughout your body. By nourishing these glands, maca root helps maintain healthy hormone levels that are already within the normal range.   
Supports healthy stamina and endurance levels
–  According to a study from the
Journal of Functional Foods
, maca root is packed with iron and important vitamins, minerals and amino acids that can support your body's natural strength, endurance and stamina. Today, athletes and bodybuilders regularly consume maca root to support optimal exercise performance.
Supports healthy energy levels
– According to a study that appeared in the journal
Pharmaceuticals
, maca root possesses unique energy-supporting properties like those of caffeine. However, unlike caffeine, maca root supports healthy energy levels without causing an energy crash afterward. Maca root is also naturally abundant in B-vitamins, which play a crucial role in maintaining optimal energy levels. 
Naturally uplifts your mood
– Maca root contains high levels of zinc, iodine, essential fatty acids, flavonoids and other plant compounds that can positively influence your mood and feelings. Mix maca root powder for a healthy beverage that can perk you up like coffee without leaving you jittery or depleted afterward.
Maca root powder provides a wide variety of nutrients and antioxidants**
When it comes to nutritional content, few superfoods can even match maca root. Bursting with over 60 micronutrients, this Incan superfood has a greater mineral content than potatoes, carrots and many other root crops.
According to an article from the journal
Food & Function
, maca root is a rich source of essential vitamins and minerals, such as fiber, protein, copper, iron, calcium, potassium, manganese, selenium, zinc, phosphorus, magnesium, iodine, silica and vitamins A, B, C, D, E, B1, B2, B3 and B12. It also contains 18 amino acids and 20 fatty acids, including palmitic acid, linoleic acid and oleic acid. Furthermore, maca root contains plenty of plant sterols, such as sitosterol, brassicasterol, campesterol, ergosterol, and ergostadienol.
According to a 2014 study from the journal
Carbohydrate Polymers,

 
the polysaccharides in maca root extract have high antioxidant activity. Maca root also contains other antioxidants, such as  flavonoids, phenols, saponins, glucosinolates,  glycosides and vitamins C and E. The regular consumption of maca root can even support your body's natural production of natural antioxidants like superoxide dismutase (SOD) and glutathione. By supplementing with antioxidant-rich maca root powder, you can help protect your cells from oxidative damage and support a healthy immune system.
Find out more about Groovy Bee Organic Maca Root Powder Now!
USDA Organic
Glyphosate Tested
Kosher Certified
Vegan
Non-GMO
Gluten-Free
Laboratory Verified
GRAS affirmed
No additives
Non-irradiated
Ingredients:
Organic Maca Root
Serving size:
2g (1 tsp)
Serving per container:
 170
Product of Peru
Storage notes: Store in a tightly sealed container in a cool and dry area at room temperature (15 °C - 32°C) with relative humidity <70%. Keep away from light and heat.
**These statements have not been evaluated by the FDA. This product is not intended to treat, cure or diagnose any diseases.
Manufactured in a facility which may contain nuts (peanuts, tree nuts).
Glyphosate-Tested
This product is verified A+++ based on glyphosate analysis standards published at www.GlyphosateTested.com.
This means the product has been tested via triple quad mass spec (LS-MS-MS) and conforms to the glyphosate / AMPA limits required for an A+++ rating as described at www.GlyphosateTested.com.
Low Heavy Metals Verified!
This product is verified A according to the heavy metals standards published at www.LowHeavyMetalsVerified.org
This means the product has been tested via ICP-MS and confirmed to meet the limits for an A rating as described at LowHeavyMetalsVerified.org.