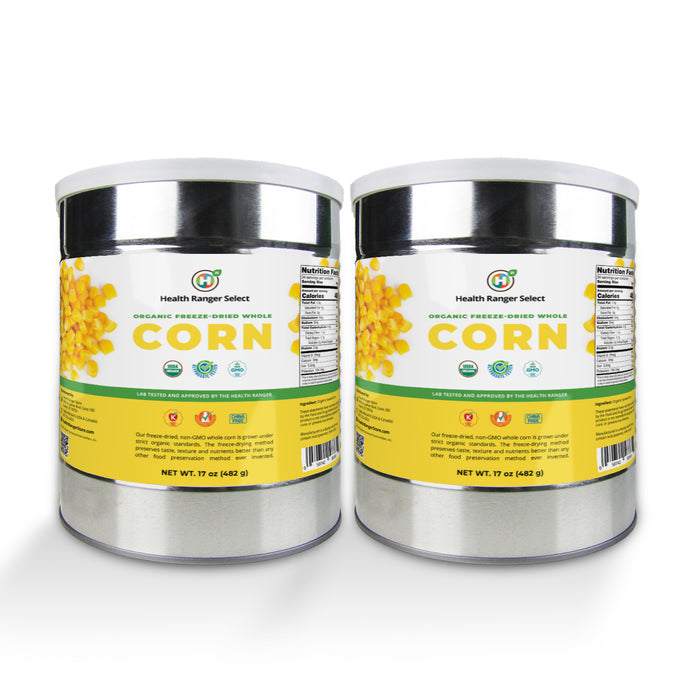 Freeze-Dried Organic Whole Corn (17oz, #10 can) (2-Pack)
Original price
$ 99.95 USD
Original price
$ 99.95 USD
-
Original price
$ 99.95 USD
Original price
$ 99.95 USD
Current price
$ 79.95 USD
$ 79.95 USD
-
$ 79.95 USD
Current price
$ 79.95 USD
Sold out
Item Number:
050742587659_2com
Freeze-Dried Organic Whole Corn (17oz, #10 can) (2-Pack)
**We can NOT ship #10 Can to PO Boxes; we need a physical address**
**USA and Canada Shipping Only! (Due to the weight and volume of this product, it is restricted Internationally)**

**This product can be stored up to 10-15 years, depending on storage conditions. Keep it in a dark, cool, low-humidity location and it will last for an extended duration. Heat, humidity and light will degrade all storable foods**

Our freeze-dried, non-GMO whole corn is grown in the USA under strict organic standards. The freeze-drying method preserves taste, texture and nutrients better than any other food preservation method ever invented. Rehydrate this corn by soaking in water, or use in soups and other recipes.
USDA Organic
Glyphosate-tested
Kosher-Certified
Vegan
Non-GMO
Laboratory-Verified
China-Free
Ingredients:
Organic Sweet Corn
Serving size:
 14g
Serving per container:
 34
Product of USA
Note: 
To ensure the longevity of storage and safety of our product sold in 
#10
 can packaging, we enclose the product inside Ziploc storage bags and placed inside our 
#10
 cans.  The Ziploc bags are BPA free, made for food grade products and have an exceptionally long shelf life.
Important: Freeze-dried foods will absorb water like a sponge. Once you open these bags or cans, you must seal them in an air-tight manner.
**These statements have not been evaluated by the FDA. This product is not intended to treat, cure or diagnose any diseases.
Manufactured in a facility which may contain nuts (peanuts, tree nuts).
#10

 Cans, Mini Buckets, and Health Ranger Buckets Return Policy
Due to the nature of our storage foods, all #10 cans, Mini-Buckets, and Ranger Buckets Sets will be subject to a 20% restock fee. All items must be shipped back within 30 days and must be unopened (including external seals in tact), in their original packaging and resalable condition.  Once received and inspected, we will refund your method of payment, less original shipping/delivery charges. If you are past the 30 day mark on your purchase, we will not accept the items back nor offer you a credit or refund.
Glyphosate-Tested
This product is verified A+++ based on glyphosate analysis standards published at www.GlyphosateTested.com.
This means the product has been tested via triple quad mass spec (LS-MS-MS) and conforms to the glyphosate / AMPA limits required for an A+++ rating as described at www.GlyphosateTested.com.
Low Heavy Metals Verified!
This product is verified A+++ according to the heavy metals standards published at 
www.LowHeavyMetalsVerified.org
This means the product has been tested via ICP-MS and confirmed to meet the limits for an A+++ rating as described at 
LowHeavyMetalsVerified.org
.
Customer Reviews
Wonderful taste and love the crunchy texture. I was pleasantly surprised since I've never had freeze dried corn before. Because of stomach problems, yrs ago I've had to stop eating corn all together. Since I wanted to try this, I bought this small bag and found I can eat this corn and haven't had any problems. Healthy tasty treat and even my husband is gobbling up now.
Read More Reviews!