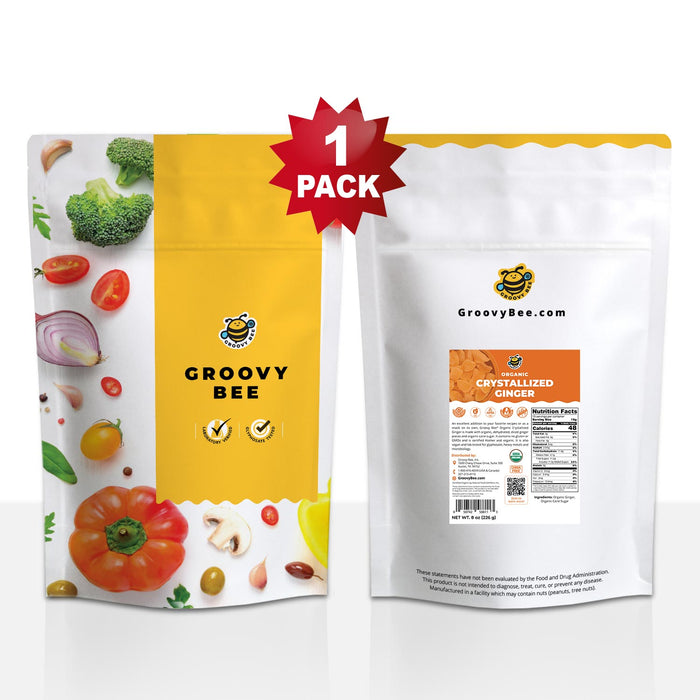 Organic Crystallized Ginger 8 oz (226 g)
Original price
$ 15.95 USD
Original price
$ 15.95 USD
-
Original price
$ 15.95 USD
Original price
$ 15.95 USD
Current price
$ 12.95 USD
$ 12.95 USD
-
$ 12.95 USD
Current price
$ 12.95 USD
$ 3.00 USD

(19 %)
Item Number:
050742588113
Groovy Bee® Organic Crystallized Ginger 8 oz (226 g)
A staple in Ayurvedic and Traditional Chinese Medicine (TCM), ginger is an herb that contains over one hundred bioactive compounds that can support healthy digestive, immune and respiratory functions.
For those who find the flavor of raw ginger a bit too strong for their taste but still want to experience the health benefits of this remarkable herb, crystallize ginger is the tasty treat you've been looking for! That's why the Health Ranger Store is thrilled to introduce our NEW Groovy Bee® Organic Crystallized Ginger - The Ultimate Healthy Snack to satisfy your sweet tooth!
Made with organic, dehydrated, diced ginger slices that are slightly sweetened with organic cane sugar, our premium crystallized ginger pieces provide a sweet and easy way to add ginger to your diet. An excellent addition to your favorite recipes or as a snack on its own, Groovy Bee® Organic Crystallized Ginger contains no gluten or GMOs and is certified Kosher and organic. It is also plant-based, non-China and has been thoroughly lab tested for glyphosate, heavy metals and microbiology.
What is Groovy Bee® Organic Crystallized Ginger made of?**Organic ginger

 
– Ginger is the horn-shaped rhizome of 
Zingiber officinale
, a plant native to southeast Asia. Known for its distinct aroma and flavor, this herb is traditionally used to support healthy digestion, as well as optimal liver and gallbladder health. Ginger root has an outstanding nutritional profile, containing over a hundred bioactive components. According to an article from the 
International Journal of Preventive Medicine
, ginger root owes its many health benefits to its natural abundance of gingerols, paradols, shogaol and other phytochemicals.
Organic cane sugar

 
– Cane sugar is a sweet, crystalline substance derived from organic sugarcane. Research indicates cane sugar is rich in antioxidant polyphenols and contains plenty of powerful phytonutrients, such as calcium, potassium, magnesium, manganese and iron. Cane sugar is a much healthier alternative to refined white sugar. When consumed in moderation, organic cane sugar serves as a great ingredient for improving the taste and texture for other foods.
Health benefits of crystallized ginger**Supports healthy digestive function
 – Ginger contains high levels of an antioxidant compound called gingerol that can support optimal digestive function. After eating a heavy meal, it is recommended to chew on a piece of crystallized ginger to encourage efficient digestion.
Supports healthy immune function

 
– Research indicates that ginger contains high levels of active compounds that can help support optimal immune function. Its natural abundance of powerful antioxidants can provide further support for your body's natural immune defenses.
Supports healthy respiratory function
 – According to a study that was published in the
 

American Journal of Respiratory Cell and Molecular Biology,

 
ginger possesses natural properties that can help relax your airways and support optimal respiratory function.   
Supports healthy cognitive function
 – Ginger contains high levels of potent antioxidants that can help protect your brain from damage caused by harmful free radicals and thereby support healthy cognitive function. Ginger is also known to support optimal levels of serotonin and dopamine in your brain.
Supports healthy circulation
 – Crystallized ginger contains considerable levels of iron, which is a nutrient that is crucial for the healthy functioning of your circulatory system. You can boost your daily intake of iron by chewing on a piece of crystallized ginger once a day to support healthy circulation.
Supports the growth of healthy skin
 – Due to its natural abundance of powerful antioxidants, ginger is able to support healthy, glowing skin by protecting it against damage caused by harmful free radicals. The high content of antioxidants in ginger can also help support your skin's natural production of collagen.
Supports deep and restful sleep
 – Thanks to the naturally calming properties of ginger, this herb can serve as a useful sleep aid. Before bedtime, you can try chewing on a piece or two of crystallized ginger to support deep and restful sleep.

Naturally uplifts your mood

 
– Due to its spicy-sweet aroma, ginger possesses calming properties that can naturally elevate your mood and help reduce feelings of anxiety. Ginger can also support optimal serotonin and dopamine levels in your body.
Explore More About Groovy Bee Organic Crystallized Ginger Now!
USDA Organic
Glyphosate Tested
Kosher Certified
Vegan
Non-GMO
Laboratory Verified
Gluten-Free
China-Free
Ingredients:
Organic Ginger, Organic Cane Sugar
Serving Size:
 15g
Serving per container:
 15
Product of

Fiji
Storage notes: Store in a cool, dry area, away from sunlight, contaminating odors and moisture sources.
**These statements have not been evaluated by the FDA. This product is not intended to treat, cure or diagnose any diseases.
Manufactured in a facility which may contain nuts (peanuts, tree nuts).
Glyphosate-Tested
This product is verified A+++ based on glyphosate analysis standards published at 
www.GlyphosateTested.com
.
This means the product has been tested via triple quad mass spec (LS-MS-MS) and conforms to the glyphosate / AMPA limits required for an A+++ rating as described at 
www.GlyphosateTested.com
.
Low Heavy Metals Verified!
This product is verified A+ according to the heavy metals standards published at www.LowHeavyMetalsVerified.org
This means the product has been tested via ICP-MS and confirmed to meet the limits for an A+ rating as described at LowHeavyMetalsVerified.org.